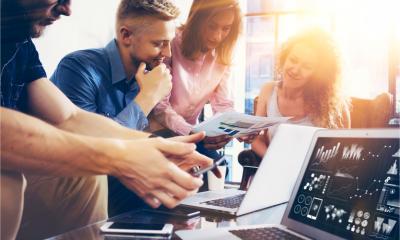 Customer Relationship Management (CRM) is a way of managing customers' interaction with your business. We'll take a look at how CRM software can be applied across different business functions.
Sales
Responsiveness, sharing, teamwork, and ultimately closing deals are some of the most important qualities and abilities of successful sales team. How can CRM assist with this?
On-the-go access - with a mobile CRM, reps can update records while they're out in the field.
Data management - store key information (such as leads and opportunities) in a central location that can be accessed by all team members.
Save time - easily and quickly identify prospects, leads and opportunities, as well as monitor pipelines and deals.
Collaboration - team members can share their calendars, documents and contact information with each other, so everyone's always on the same page.
Insight - many CRM systems offer reporting and analytics to interpret data, which can be used to drive revenue, improve customer interaction or manage team performance, amongst other uses.
Marketing
Customers are at the centre of marketing campaigns. A CRM system can help create campaigns that are targeted at specific customers, based on the data that's held about them.
CRM systems can be used for segmentation. This allows you to create focused customer profiles, whether from their purchase history or their interaction with previous marketing content (such as social media activity and email open rates).
In turn, you can use this information to run personalised campaigns. This can help to grow your customer base and engagement with your marketing, all of which can potentially increase profits too.
Some key features include:
interaction history;
form integration;
automated tasks;
campaign data.
From this, you can understand how to create a successful campaign that speaks to the customers you have and the customers you want.
Customer service
At every touchpoint of your business, you want to promote a positive customer experience. This means interaction that's personalised, intuitive and fast.
CRM systems can manage tickets, complaints and other customer enquiries, as well as identify preferences. That means when a customer makes contact, your business is primed to offer help that best suits them specifically.
CRM systems can remove the guesswork to offer insights based on what your customers want. For example, you can use a CRM to store and analyse customer data to understand the best time of day to make contact.
All forms of customer service can be managed in one place. So whether a customer calls, emails or messages, you can provide high-level support.
This is especially useful when managing negative experiences, so that complaints and issues can be dealt with quickly. Conversely, you can understand what makes a positive experience, and focus on providing that to your customers, time and time again.
Copyright 2020. Featured post made possible by Scarlett Cook, writer for Startups.co.uk