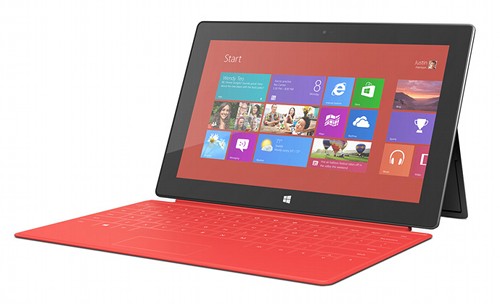 Microsoft Surface, complete with Touch Cover
Should you buy a Microsoft Surface, the tablet computer Microsoft launched alongside Windows 8? Billed as an iPad beater, Surface is the tech giant's big bet to carve itself a space in the tablet market.
A month after the tablet hit the shelves, we've trawled the web to try and answer the question: should you buy a Microsoft Surface?
Design
Surface is boxier and slightly heavier than most of its rivals, but none the worse for it. Most reviews agree it has a distinctive design, with a clever kickstand that supports the tablet in portrait mode. PC Pro's Barry Collins explains:
"The mechanics of the kickstand are beautifully simple. The bottom half of the back of the tablet casing flicks out to create a stand, turning the device into a pseudo-laptop when used with one of the keyboards."
Ah yes, the keyboard. The Touch Cover is a thin screen cover for Surface that incorporates a touch-sensitive keyboard. It costs £100 if you buy it separately (and you'll almost certainly want one if you're going to buy a Microsoft Surface). There's also a thicker Type Cover (£110) which features a more traditional keyboard.
Review sources
We referred to these Microsoft Surface reviews when compiling this blog post:
PC Advisor tried both:
"The Touch Cover is strange to use at first but is something you can get used to after a while. It's just 3mm thick and uses pressure-sensitive touch pads. The Touch Cover is fine for the odd bit of typing but anyone wanting to do any serious work will benefit no end by opting for the Type Cover."
In general, reviews praise the design and build quality of Surface, putting it up there with other leading tablets like Apple's iPad.
Software and apps
Surface runs a special version of Windows called Windows RT. This caused some consternation among reviewers, because it means Surface can't run the Windows software you already own.
Next year you'll be able to buy a Microsoft Surface that's thicker, heavier and able to run standard Windows apps. CNET UK's Andrew Hoyle explains:
"...you can only use software from the Marketplace app store, which is missing many big-name apps and is currently a low priority for most developers,"
 Similarly, Information Week, complained about some obvious omissions:
"There are a lot of go-to apps that still aren't there. Microsoft's SkyDrive was the only cloud storage service available on day one, though DropBox was added shortly after. Others, like Google Drive and Carbonite, still aren't available. There's still no dedicated YouTube app. Social media staples like Twitter, Facebook and LinkedIn are absent..."
TechRadar agrees, in more scathing fashion:
"Windows RT won't run old PC programs [...] It has the potential to cause mass confusion and the power to sink Microsoft's figurehead before it's even taken off."
Having said that, Surface can run a special version of Microsoft Office, which is not available for non-Windows tablets.
Display and interace
On paper, Surface has a distinctly average screen. It's not as crisp as the iPad's Retina screen, nor as sharp as the displays found in many other tablets, like Google's Nexus.
However, as is often the case when it comes to displays, the screen's specifications don't tell the whole story. CNET found it well up to most jobs:
"I found it to be perfectly sharp enough for working on documents in Office, or indeed in Google Docs. Videos looked crisp, clear and bold, thanks to the display's good use of colour. It doesn't excel in any area, but it's a decent all-rounder."
Ease of use and performance
As we've mentioned before, Windows 8 has been designed for touch screens. And if you buy a Microsoft Surface, you'd expect it to make full use of these touch-enabled features. Wired found this aspect of the interface doesn't disappoint:
"It is delightfully gesture-friendly, and Microsoft has clearly spent much time thinking about and creating an entirely new interface."
However, Windows RT also incorporates elements from older versions. Most prominent is the old-skool Windows Desktop, which you have to use in order to run Microsoft Office. ZDNet found this is where the interface suffers:
"...any time you're forced to use the desktop interface (safely removing a USB stick or accessing Task Manager are other examples), you'll have an experience akin to finding a hand-crank starter on an otherwise sleek and modern-looking automobile"
Expert Reviews judged the tablet's speed and performance to be fine in general use, but discovered the Surface slows down when asked to perform more demanding tasks:
"In general use the tablet is as responsive as an iPad, with touch elements and web pages gliding around under your fingers [...] but the moment you try to do anything serious in Office things start to chug a little, while demanding 3D games such as Pinball FX 2 didn't run as smoothly as we expected."
Verdict
Surface is a really interesting prospect. Microsoft should be commended for creating a tablet that does things a bit differently. The Touch Cover and kickstand are genuinely innovative and useful, and for day-to-day internet use you won't be disappointed if you buy a Microsoft Surface.
The ultimate vision of creating an environment in which software and files can move seamlessly from tablet to PC and back again is also attractive. But Microsoft isn't quite there with Windows RT. The mix of touch and traditional interface elements can be jarring, and there are notable omissions from available apps.
Those gaps are likely to get filled over time, and when Surface becomes available with the full version of Windows 8 next year you'll be able to run all your usual Windows software too.
If Microsoft manages to get that experience right, that's when Surface will become a compelling business tool. And that's why most businesses will probably want to buy a Microsoft Surface only once that new model becomes available.
You can buy a Microsoft Surface online now. Prices start from £399.