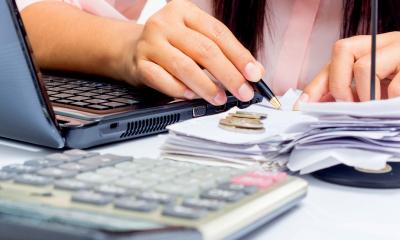 23 FAQs on choosing and using accounting software in your business
1. How can accounting software help us?
Accounting software can be the financial hub of your company. You use it to keep accurate financial records and perform tasks such as:
creating and sending invoices
creating quotes and estimates
recording expenses
completing tax returns
checking cash flow or profit and loss
creating budgets and forecasts
Accounting software can automate many of the repetitive, manual tasks involved in maintaining your accounts.
For instance, some packages can automatically download your bank statements and check the bank transactions against your records.
As well as saving you time, accounting software can give you a better understanding of your business finances. Because the software holds all your financial data, you can generate reports that show how your company is doing.
Finally, accounting software generally makes it easier to meet your legal requirements when running a business. For example, you can file VAT returns without having to do any manual calculations, or quickly access the figures you need to file your company accounts.
2. What's the difference between cloud and desktop accounting software?
To use desktop accounting software, you must install it on your computer and run it there. All the data relating to your accounts is also stored on your computer.
Cloud accounting software runs on the internet. There's nothing to install on your computer. To access the software, you visit a website and sign in with a username and password. This means you can use cloud accounting software from virtually any device with a connection to the internet (including tablets and mobile phones, too).
Traditionally, all accounting software ran on the desktop. And although desktop packages are still available, there's been a significant shift to the cloud.
Most accounting packages aimed at small and medium-sized companies now come with an app allowing you to access your accounts anywhere you have access to the internet.
Apps tend to be more user-friendly and requires less technical expertise to set up. This makes them a popular choice.
3. Do we need to know about accounting to use accounting software?
The right accounting software can make your accounts more accessible and easier to understand.
If all your company's financial data is currently on paper or in Excel spreadsheets, you may find that accounting software helps you identify trends, spot opportunities and give you confidence that you understand where your company stands.
Having said that, you do still need some basic accounting knowledge to use it. Quite simply, if you enter inaccurate information, you'll get inaccurate figures and information out. So, it's still wise to have some basic knowledge of key concepts, like your accounts payable and accounts receivable.
4. We seem to manage ok. Do we need accounting software?
The majority of businesses, even the very smallest, use some form of accounting software. While it's still perfectly valid to run your business accounts on paper or using Excel, there may be advantages to switching to dedicated software. For instance:
Save time. Accounting software can automate many tasks you perform by hand, like checking bank statements or sending late payment reminders.
Make better decisions. Accounting software gives you easier access to information that actually means something, so you can use it to make decisions based on facts.
Fewer headaches. Good accounting software will help you meet HM Revenue & Customs (HMRC) requirements and keep you up to date as legislation changes. And, if you're ever selected for an HMRC audit, you'll have good records to show.
It's usually more practical for smaller companies to get by without accounting software. But even then, it often makes sense to start using it.
A cheap or free package will get you into good financial habits and make it easier to handle more transactions as your business grows.
5. What should we think about when choosing accounting software?
Although most cloud accounting packages offer a free trial, it's a good idea to do some research before choosing a package to test.
There can be significant differences between software - and even if the trial goes well, you might find later that your chosen package is missing a crucial feature.
These are some of the questions you might ask:
Who needs to use your accounting software? How many user accounts will you need? Will these people all be in the same office, or located in different places? Are they familiar with accounting concepts?
What key tasks will you need to perform? For instance: invoicing, logging expenses, recording payments, tracking time spent on different projects, generating management reports, converting between currencies, etc.
What other software do you use? Could you connect your new accounting software to other business systems? For instance, you might be able to link your customer relationship management system.
Are you VAT registered, or do you plan to be? Different packages offer different VAT functions. Some don't track VAT at all. Others may not be able to handle Cash or Flat Rate VAT schemes, or deal with VAT MOSS regulations.
Do you trade in different currencies? Keeping track of exchange rates can be a headache, so if you do business in other currencies then look for software which converts currencies for you.
Do you bill for time and materials? Some packages offer powerful time and materials tools. For instance, your team may be able to input their timesheets in order to generate client invoices automatically.
Does your sector have specific accounting requirements? Businesses in some sectors must follow particular accounting and reporting rules. For instance, do you operate under the Construction Industry Scheme (CIS)?
Do you run payroll? It's a good idea to evaluate how you run payroll when considering accounting software. Many packages offer payroll functions, so your payroll figures flow through to your accounts.
How much IT expertise does your business have? You'll probably want to make sure your accounting software offers appropriate support for your business. Some packages charge extra for this.
Make sure you get key employees involved when evaluating different packages. They may be able to provide a different perspective or offer helpful insights into how the software might be used.
6. We're just starting up. Isn't accounting software overkill?
It is possible to manage your finances using spreadsheets or even on paper. However, unless you handle a very low number of transactions each month (ten or fewer), accounting software will almost certainly make you more efficient.
If you're only just starting a business, the case for accounting software may seem less compelling.
However, it's easier to get used to accounting software if you have it from day one. As your business grows, you can be confident you have software in place to cope with your success and won't have to go through a transition later.
7. Should we get a package that does payroll, too?
Possibly. If you currently use payroll software, it may be possible to add accounting software from the same provider.
This should allow you to link your payroll and accounting functions together, ensuring payroll figures flow through to your accounts.
Alternatively, it may make sense to switch to combined accounting and payroll software from another provider. This can be cheaper and gives you a single package that holds all your accounts and payroll data.
However, it's important to evaluate your payroll requirements carefully, too. When you buy combined accounts and payroll software, you may have to pay a fixed monthly fee per employee. This will grow as your business expands.
8. How can I make sure accounting software will be right for the long-term?
When choosing your accounting software, think about future plans for your business and whether the software will be able to support them.
For instance, if you plan to open additional branches, make sure the software can track sales and expenses by location.
It can also be a good idea to look for a package that gives you the option to upgrade or add new features. Most cloud accounting packages allow you to upgrade instantly, by simply choosing your new package.
Many packages also offer add-ons or plug-ins that can provide additional features and capabilities.
9. Is free accounting software any good?
Free accounting software can be perfectly adequate if your company only needs to perform basic tasks, such as raising invoices.
However, you should always evaluate free software in the same way as any other package. If it doesn't provide the functions you need, then it could be a false economy.
When considering free accounting software, make sure it is offered by a provider that's established and reputable.
In particular, free cloud accounting software packages could be shut down without warning. As you're not paying, you have little comeback in the event of problems.
Some software offers tiered pricing, with basic features available free. Choosing such software allows you to get started for free, then start paying when your business requires more functions, users or upgrades.
10. Should we choose software based on our industry or sector?
In some cases, yes. Companies operating in certain industries or sectors have to comply with specific accounting requirements. For instance, some construction businesses must comply with HM Revenue & Custom's Construction Industry Scheme (CIS).
If your business falls into this category, it's important your accounting software is able to cope with the requirements.
11. Who should we talk to when choosing accounting software?
It's a good idea to talk to:
Similar businesses. Your contacts may be willing to share experiences of accounting software. Learning how companies like yours have successfully (or otherwise) implemented accounting software can be enlightening.
Your accountant. Your accountant, bookkeeper, or other trusted financial adviser should be able to recommend software. Be aware that some accountants receive commission from software companies, so their recommendations could have an ulterior motive.
Your staff. Make sure the people who will be using your accounting software play a part in selecting it. It's important they are comfortable using the software and have confidence in your choice of software.
12. What are the main benefits of using cloud accounting software?
Rather than installing it on a computer in your business, you access cloud accounting software by signing in online.
All your data is stored on the software provider's servers. This offers a number of advantages over traditional desktop accounting software:
The cost is more manageable. You usually pay a monthly fee for cloud accounting software. This doesn't necessarily make it cheaper than paying a one-off fee for desktop software, but it does allow you to spread the cost.
You can use it anywhere. Because you access the software over the internet, you can sign in anywhere there's an internet connection. You can also switch between computers and still see the same, up-to-date information.
There are fewer management overheads. With no need to install software onto a computer or server, there's no need to keep it updated, either. The software provider will take care of this, as well as providing support and handling backups.
There's usually a mobile app. Again, because you sign in to access your data, most cloud accounting packages offer apps that make it easy to carry out key accounting tasks and keep on top of your figures on the go.
The accounting software industry has made a significant shift towards cloud software and apps. As a result, it generally makes sense for smaller companies to opt for cloud accounting software.
13. Is it safe to put my financial data in the cloud?
In general, yes - but you should always make sure your accounting software provider is well-established and trustworthy, with a good track record.
Reputable cloud software providers invest a lot of time and money in security, because their reputations depend on keeping customer data safe.
Make sure your provider uses data encryption (usually called 'SSL encryption'), and search online to make sure they're well established and haven't suffered any major security breaches.
14. Should we keep a local copy of our data, too?
Even though most cloud accounting software will back your data up automatically, it's a good idea to take your own copy once in a while, too.
If the cloud software provider ever goes bust, or shuts down without warning, this reduces the impact to your business.
Most packages will allow you to export details of all your customers, suppliers and transactions.
15. What happens if our provider goes down, or our internet connection fails?
Usually, you won't be able to access your accounts until the service or your internet connection is back up.
Some cloud accounting packages do offer an 'offline mode', so you can keep on working while you wait for things to be fixed.
16. Can accounting software replace our accountant?
Although accounting software can automate some of the 'number crunching' tasks your accountant may currently handle, it is not designed to replace your accountant altogether.
It's best to think of accounting software as a way to make the relationship with your accountant more effective and efficient.
As the software handles jobs like tracking expenses and generating your profit and loss chart, your accountant can spend more time analysing your figures and offering advice to help you make better business decisions.
Most accounting software includes features to make it easier to work with your accountant. For instance, you may be able to grant them access to view your figures.
As your accounting software will become the hub for your business accounts, it's important your accountant is comfortable with your choice of software. Always consult them before making a commitment (see above).
17. Will our accountant help us choose accounting software?
Yes. In fact, you should make sure they're involved in the process, as they are likely to have to use the software, too.
However, keep in mind that your accountant may steer you towards their default or preferred package, even if it's not the most suitable for your business. So, do some research independently and make sure you balance your accountant's views with opinions from others in your business.
Also, be aware that some accountants receive commission from software companies, so their recommendations could have an ulterior motive.
18. Will our accountant use our software too?
Almost certainly. Most accounting software will allow your accountant to view your latest financial figures. Many packages also offer an 'accountant mode', giving them access to features that help them work with your books.
19. When is the best time to switch to accounting software?
You can start using accounting software at any time. However, the easiest time to move to software (or switch packages) is at the start of your company's financial year.
If you can't wait that long, and your business is VAT registered, the next best time is at the end your VAT quarter.
Having said that, some accounting software packages allow you to enter or import data from other sources. This lets you move across a complete record of your transactions, so you can keep all your data in one place.
20. How can I be confident the software will be kept updated as legislation changes?
As financial and tax rules can change frequently, it's important your accounting software is kept up to date. That means you can be confident its calculations are correct.
If you use accounting software that includes payroll functions, it's particularly important it's kept up to date. Payroll tax tables change every year.
Most cloud accounting software will include updates with the standard monthly fee. If you use desktop software, you may have to pay for key updates each year.
21. Is it easy to switch to a different package?
As you use your accounting software, it creates a large store of data relating to your business. Moving this to a new package can be a tricky process, particularly if you have many complex transactions.
That's not to say it's impossible. Some software providers offer data conversion services, or you can often choose to archive your old data and start again in a new package.
22. Who in our company should be able to access our accounts?
Accounting software is good at making your financial data more accessible and understandable. Additionally, many packages allow you to set up individual usernames for different people - complete with customised access levels.
In order to take full advantage of these features, consider allowing a range of employees to access your accounting software - not just the people who are directly responsible for financial admin.
For instance, it might be a good idea to let your sales manager view weekly sales figures, or for your HR manager to view salary and payroll information.
23. Do we need to keep records outside of our accounting software?
Accounting software is designed to hold all your company's financial records. Maintaining extra records outside of the software takes more time and - if you're using the software properly - is unlikely to bring you significant benefits.
Having said that, it is a good idea to take a backup copy of your data occasionally. If the cloud software provider ever goes bust, or shuts down without warning, this reduces the impact to your business.
You should also maintain separate copies of key accounting documents, like your annual accounts and submitted VAT returns.