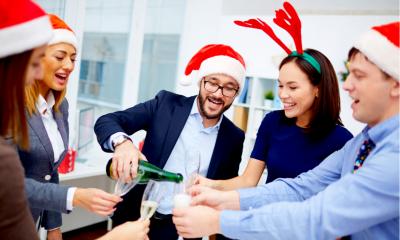 The UK's leading accountancy body is reminding employers that they can "spread the Christmas joy" by taking advantage of a staff party tax break.
The Institute of Chartered Accountants in England and Wales (ICAEW) wants to ensure that employers do not to miss out on the tax break - which means they can spend up to £150 per employee each year on entertainment tax-free.
"After a year of hard work, many employers like to reward their staff with a Christmas party," said Anita Monteith, ICAEW tax faculty technical manager. "The £150 tax exemption for a staff party is a great way to reward hard work and boost staff morale. It applies to each tax year, so employers can put on both a summer party and a Christmas event, and the employees will enjoy some tax-free fun as long as the total cost for both is less than £150 per head.
"Businesses of all sizes can take advantage of these savings at Christmas. The £150 cap includes accommodation and transport home, as well as food and drink. And, as long as the cost per head is kept under the limit, employees can bring their partners along too."
However, she warned businesses: "If you spend as little as one penny over the limit, the full amount spent on the party becomes liable to income tax and national insurance."

Need a bit of help?
We get it - calculating your tax can be daunting.
GoSimpleTax makes your self-assessment tax return quick and easy. It guides you through step by step, making it simple to figure out which expenses and allowances you can claim - saving you hours of hassle.
It's HMRC recognised, jargon-free and totally intuitive.
Get 15% off GoSimpleTax Gold with code DONUTST18.
When it comes to the tax rules concerning gifts for staff, only those that are deemed "trivial" are exempt from tax. Monteith said: "As of last year, employers can add to their generosity with the trivial benefits exemption. If a gift costs less than £50, it can be considered trivial and therefore may be entitled to tax-free status.
"So, bosses can now not only treat their employees to a Christmas party, but add a little gift to that as well. It is important to remember however, cash gifts, such as a Christmas bonus or vouchers redeemable for cash, must have tax and national insurance contributions paid."
Gifts won't be entitled to the tax exemption if:
The cost exceeds £50;
The benefit is cash or a cash voucher;
The employee is entitled to the benefit as part of a contractual obligation (including under salary sacrifice arrangements);
The benefit is provided in recognition of particular services performed by the employee as part of their employment duties.