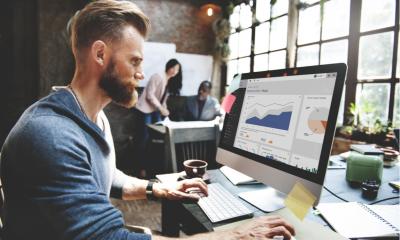 A new study has forecast that Making Tax Digital will deliver an increase in revenues for UK small firms and net gains in turnover and growth for the economy.
Making Tax Digital (MTD) could trigger a "digital snowball effect" worth £57bn in a productivity payout for UK SMEs over five years, according to a new report by independent economic consultancy Volterra Partners in association with Intuit QuickBooks.
Making Tax Digital comes into effect in April 2019. It means that all VAT-registered businesses with a turnover over the VAT threshold of £85,000 will have to keep digital records and submit their VAT returns using approved software.
According to the report, The Productivity Payout: UK Small Businesses and the Digital Economy, the spill-over benefits of MTD will drive improvement in productivity and free time for more productive activities such as sales, marketing and training.
Businesses of all sizes will see the benefits, it says. For sole traders, the predicted average net gain in annual revenue is £1,900; a small business with 10-49 employees will see an average increase of £18,000 to their top-line growth.
"Now is the time for small businesses to embrace digital with unabated optimism," said Chris Evans, vp and UK country manager at Intuit QuickBooks. "Today's report highlights that a digital-led approach will be transformational for small businesses, who are the backbone of the UK economy.
"For those businesses, the transition to digital will not be without stumbling blocks. However, it presents a huge opportunity to streamline operations, drive efficiencies and simplify tax. It will enhance cashflow management and allow them to get paid faster and access capital to grow, powering prosperity across the UK."
Andrew Chamberlain, deputy director of policy and external affairs at freelancer body IPSE, said: "This report sets out a clear and positive view on the benefits that digitisation can bring, not just to self-employed businesses, but to the economy as a whole. But there are challenges too. The roll-out of Making Tax Digital must be carefully handled to ensure businesses can transition to digital systems over a sensible time frame and with considerable support from both government and industry."
However, research by QuickBooks has found that about one in five SMEs are still unaware of MTD and its impact.
According to the latest figures from HMRC, almost 30,000 businesses have already signed up to the new service and over 2,000 businesses a day are currently signing up for MTD for VAT. In all, some 1.2 million businesses will be affected.
"It has never been more important for businesses to be able to seize the opportunities that digital technology offers," said Mel Stride, financial secretary to the Treasury.
"Making Tax Digital helps them to do just that - making it easier for businesses to get their tax right first time by transforming how they keep their records and send information to HMRC. It will give businesses more control over their finances, allowing them to spend time focusing on innovation, growth and the creation of jobs."
Written by Rachel Miller.