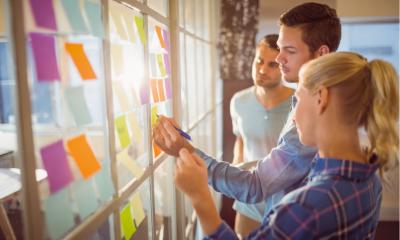 A survey of UK employees has investigated when different workers feel most productive and have their best ideas.
The poll of 1,000 office workers, conducted by innovation funding specialists MPA Group, has looked at the time of day employees feel most creative, and which working environments best help to stimulate creativity.
The findings show that UK employees feel most creative in the morning, with the overwhelming majority claiming their best ideas come between 10am and 11.30am. Across all sectors, the average time for optimum creativity was 11:05am.
However, the research has revealed significant differences between professions. Doctors and engineers were found to take longest to feel creative, reporting that their most productive times were 12pm and 11.54am respectively. Meanwhile, journalists, architects and designers said that they were most creative at 9.48am, 10.06am and 10.16am respectively.
The poll also asked employees how their work environment affects their creativity. The results show that:
43% of workers said they need a quiet environment in order to be creative;
86% of workers said they can't be creative when there is music playing;
28% said they needed a comfortable break out space;
Only 19% said being surrounded by other creative people is a stimulus.
Also this week, another new survey has found that office environment is vitally important to 21% of people and that happy workers are up to 20% more productive. The research, conducted by MoneySuperMarket, has found that when it comes to the perfect work environment, 73% of employees want a dedicated desk and 59% want flexible working hours. Respondents also valued drinks and snacks; recycling facilities and parking spaces.
"Small changes around the office can make a huge difference to mood and productivity, not only for employees, but also for the business owner," said Rose Howarth, head of business insurance at MoneySuperMarket.
"Not every change needs to break the bank or affect your business insurance policy. Many of the options … selected in the survey were a question of picking the right location and creating the right environment, rather than buying new assets for the company."
Written by Rachel Miller.