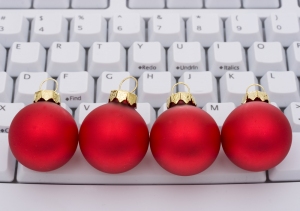 Shoppers in the UK are expected to spend £162 billion a year on products via the internet by the end of 2020. This burgeoning market is one that small businesses should not ignore.
With the festive season fast approaching, setting up an online shop now can enable a business to take advantage of the 85% of UK consumers who may spend money online at Christmas. But you'll have to move fast, as it's December already!
Customer concerns
While many people shop online today, customers still have concerns about being caught out by fake websites and counterfeit goods. This concern is heightened even further at Christmas as people make larger, multiple purchases.
Therefore, a business must plan carefully to allay customers' concerns by providing an online shop that embodies security, trust, reliability and good service. These values are central to online shoppers.
A company's online reputation is just as important as a real world one; a lack of these values can result in a lost sale or leave a bad impression of a business's brand.
The reverse is true too, and businesses that that provide reliable, secure sites can expect to gain trust and long-term loyalty from festive shoppers. Because of this, it's essential businesses that are thinking of setting up an online shop are aware of the importance of credibility when making the most out of the Christmas season.
Top tips for selling online
Here are some top tips when selling online at Christmas:
Businesses selling online need to build trust by displaying contact numbers throughout their sites. This shows there is somebody to talk to should a customer encounter a problem. Companies can also expect to receive more enquires during the festive season, so they must be prepared to deal with this. It's also important to encourage feedback, as this makes customers feel valued and can help a business develop new services.
Festive shoppers are likely to make larger multiple purchases, so need to be reassured that confidential information they give online is safe. This can be done by displaying security accreditations, such as an SSL certificate which verifies that the site is legitimate and hosted on a secure server. Businesses should also offer money-back guarantees if possible, and write their terms and conditions in plain English, making them clearly visible on the site.
Christmas purchases are often done with someone else in mind, so the buyer may be somewhat unsure of the product they are ordering. Because of this, businesses must be really transparent when it comes to their goods. It's wise to include good photos of the products being sold, alongside detailed descriptions and clear pricing.
Customers are more likely to buy from a site if they can relate to the person behind the webpage. This is even more true during the festive season when shoppers must make choices between a number of retailers. Adding pictures, videos and a blog to a website will give customers an insight into the business and help to build a rapport, which can turn into custom.
With so much for customers to think about at Christmas, businesses should utilise a reliable domain provider which promises a secure site and offers a solid ecommerce system. This will give customers peace of mind that their payment details, data and personal information are in safe hands. Businesses that help to deliver their customers a smooth Christmas can often expect return orders.
Businesses should look to embrace any channel that grants access to potential new customers, including online shops. With Christmas shopping well underway, now is a great time to be proactive and get online.
Thomas Vollrath is the CEO of Webfusion