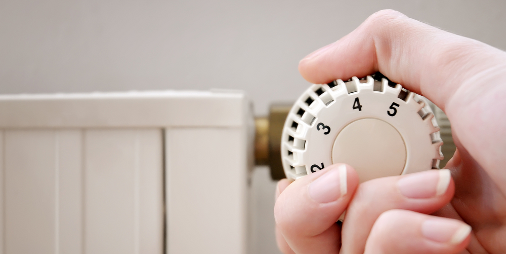 Are you turning your office heating down to save money?
It's getting cold. Energy bills are going up and competition for small businesses is fiercer than ever. Cutting your costs will always be the most efficient way to save money and increase profits – so why not start with some simple energy efficiency measures?
Business energy saving tips
Many of these tips are just as relevant for your business as they are for your home.
Turn your thermostat down by at least 1°C, more if possible. For every degree you turn your heating up, your costs can rise by 8%.
Turn off all the computers in your office at evenings and weekends. If your employees are forgetful, set up software that automatically turns computers off out of office hours.
Turn off any hardware you're not using like photocopiers, printers, chargers, machinery and so on. Intelligent sockets can help with this, by cutting power completely to devices that are on standby.  
Keeping the windows closed. If you get too hot in the workplace, turn the heating down first. It sounds obvious, but it's amazing how many offices keep the heating up high, forcing staff to open the windows!
Try not to block radiators, as this reduces their efficiency.
Turn all the lights off when the last person leaves. Many modern offices have sensors installed to turn the lights off for you.
Make sure the doors and windows are well fitted to avoid losing warm air through the gaps.
Pay less for your business energy
Improving your energy efficiency is a great way of saving money on your energy bills, but it's vital to make sure you're not overpaying for your business gas and electricity in the first place.
Business energy contracts don't work in the same way as domestic energy contracts. You can switch your domestic energy at any time, whereas business contracts lock you in for a fixed period.
At the end of your business energy contract, you'll be given a short window of time to shop around and switch your business energy. But if you miss this window, you'll be rolled into a new, fixed-term contract.
Worryingly, if you fall into the roll-over trap, you could see your prices increase by over 30%. I've seen cases where customers have been rolled onto rates that are over 100% higher.
Shop around for better prices
Once you've had a letter from your energy supplier to let you know you're in your renewal period, it's time to shop around for a better deal.
If you give us a call at Make It Cheaper, we can talk to you about your energy use and requirements before finding you the cheapest deal on the market right now. Our advice is impartial and we can switch your business energy for free.
This winter, save thousands on your energy bills by following our simple tips and by securing the best possible prices for your business.
More ways to cut your technology costs:
Jonathan Elliott is Managing Director at Make It Cheaper.