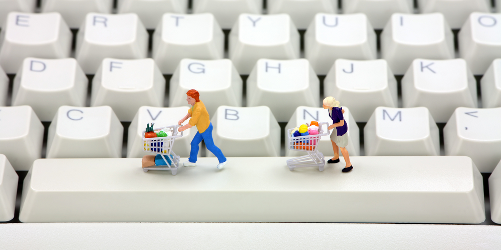 The beauty of ecommerce is that it's suited to just about anyone and achieving success is not just about how much money you throw at it.
The costs of starting an online shop are much lower than most alternatives, particularly if you are prepared to invest your own time and effort in getting things up and running. Here are ten practical tips to help you get going for less than £100:
Start small. Work on your shop part-time or even view it as a hobby. That'll allow you to test your idea before deciding whether to commit further time and expense to it.
Don't worry about premises. You can start your operation from anywhere, as long as you have an internet connection. There's no need to find and pay for premises.
Buy a domain name. Research and purchase a domain name for your website through a reliable domain name company like 123-reg, Easily or Heart Internet.
Choose good ecommerce software. This is the system that lets you create an online shop. If you're on a limited budget, look for a server-based package. These packages include web hosting, so you get everything you need to get started and can access it all through your web browser. Packages are available from SellerDeck (the company I work for) and ekmPowershop. Read more on choosing ecommerce software.
Sell on a marketplace. If you don't want to bother with ecommerce software, set up a shop on a marketplace like eBay or Amazon. You'll have to stick to their policies, but they'll bring customers right to your door. Costs generally depend on how many products you want to sell. A basic eBay shop costs £14.99 a month – on top of that you have to pay listing fees and a commission on the sale value of each item.
Develop the site yourself. If you're using good ecommerce software, you don't necessarily need any technical knowledge or design flair to get your site up and running. You should be able to get a good looking, fully functional site together without requiring a professional web designer.
Find an easy way to accept payments. The easiest way – at least to start with – is usually to use a payment service such as PayPal. It is reasonably priced, easy to set up and ideal for new and small businesses. There's no minimum monthly fee – you just pay a fixed fee per transaction, plus a percentage of the transaction fee.
Use a drop shipper. You might be fortunate to find a supplier who can drop ship (deliver direct) to your customers. This means you don't need to hold any stock and can simply integrate the shipping service costs into your pricing.
Experiment with pay-per-click advertising. Keep a little cash in reserve to run some small-scale marketing activity. A good way to start is to use pay-per-click advertising to show adverts on search engines like Google. The cost will depend on how much it costs to bid on keywords relevant to your site, but you should be able to test it without spending much. You can get free Google advertising when you sign up to the IT Donut.
Communicate with your customers. It's easier and cheaper to get repeat sales. Try to build a mailing list of customers – services like MailChimp are free for small email lists.
Nick Kington is managing director at ecommerce provider SellerDeck.