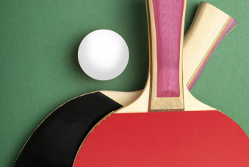 Every Friday afternoon we bring you a great business IT tip. From nuggets that make repetitive tasks easier to simple ways to banish business tech annoyances, we're here to help.
If there's something you'd like our help with, send an email to [email protected] or just leave a comment on this post. We'll try and cover it in a future IT Donut tip.
Stop playing email ping-pong!
Every round of email ping-pong puts another message in your inbox for you to deal with. If you're trying to put a stop to email overload, it's completely counterproductive.
Here are three tips to help you avoid getting lost in a pointless game of email ping-pong:
Think in fives. Five sentences, five questions, five lines long. If you're trying to send emails that are effective and to the point, think five.
Include a clear action statement. If you're trying to accomplish something with your email, be clear and specific about what you want the recipient to do. Don't leave them room to come back with questions.
Tell them you don't want a reply. It's easy to get trapped in a repetitive loop of 'thank yous'. Draw a line by telling recipients they don't need to bother replying. You can even put NRN ('no reply necessary') in the subject line.
Do you have a strategy to reduce the amount of email in your inbox? Leave a comment and share it with us.
Monica Seeley is an email and productivity expert who runs Mesmo. Learn more about email overload and email etiquette on her website.