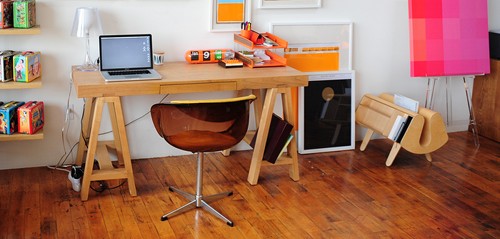 If you spend lots of time there, make your desk interesting. (Image: Dee Adams on Flickr.)
We weren't built to spend all day with our legs folded under a desk, staring at a large illuminated panel and tapping out words on a keyboard. So it's no wonder that sitting at a desk can get a bit tedious at times.
Actually, if you are stuck in front of a computer for most of the day, it's worth taking a good look at your working environment. You deserve to be comfortable, as do your employees. And when you are, you'll be more relaxed and productive.
In fact, it's worth spending some money to keep everyone comfortable. So, here are three luxuries that can make a real difference to how you feel at your desk.
1. A really good chair
If you're going to spend eight hours a day sitting in the thing, it's worth splashing out for more than a basic office chair. The Herman Miller Aeron is the Rolls Royce of office chairs, but at around £900 it's really not cheap.
They last for years though, so a more affordable option is to grab a secondhand model. Check what's available on eBay - prices start from around £300. Once you've tried one, you won't want to go back to a lesser chair.
2. Noise cancelling headphones
Wearing good noise cancelling headphones is a bit like going to the bottom of a swimming pool. The way they block external sounds can be unsettling at first, but once you adjust to it they're a great aid to concentration.
At around £280 from Amazon, or £300 direct from the manufacturer, Bose's QuietComfort 15 headphones get great reviews. But beware: wearing them constantly in an open plan office will kill off conversation.
3. A monitor with wide open space
When it comes to computer screens, the bigger the better. Apple Mac users will lust after the company's 27" screen, which has a bright, crisp picture few other screens can equal. And so it should, because it'll cost you around £800 from Amazon or PC World Business.
For PC users or those on tighter budgets, the Iiyama ProLite E2773HDS is another 27" screen with room for all your windows to breathe. It gets excellent reviews, but clocks in at a much more manageable £250. Buy from Novatech, Amazon or eBuyer Business.
The people who use them say they make a real difference, but would you spend £800 on a computer monitor? £900 on a desk chair? In the current financial climate, is that wasteful or forward-thinking? Leave a comment and let us know.