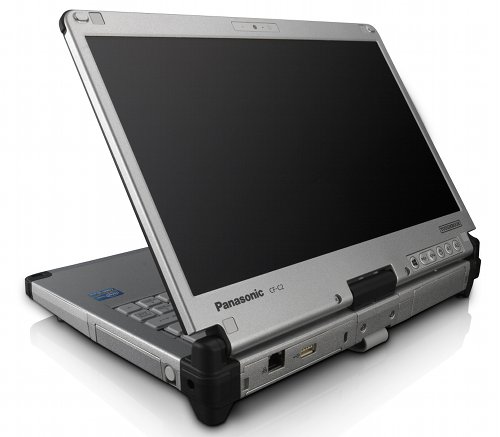 If you're looking for a portable computer that can stand up to rougher treatment than your average wafer-thin ultrabook or tablet computer, and you're keen to move to Windows 8, Panasonic have a new combined laptop-tablet that'll be right up your street.
On paper, the company's new CF-C2 model looks pretty good. There's a mid-range Intel CPU, which is more than up to regular business jobs. The 12.5" screen has touch capabilities, so you can try out all the new Windows 8 features that are designed for touch screens. The claimed battery life of 11 hours is up there with other properly portable computers.
One notable feature is the way the screen can swivel, allowing you to use the CF-C2 either as a normal laptop, or folded flat as a tablet.
But it's when you actually see this computer's rugged, don't-mess-with-me design that you realise it's a little out of the ordinary.
In fact, Panasonic has taken to calling it a 'toughbook'. Seems a fair description, even if it's not a category of computer we've encountered much before.
While it might look a little conspicuous in the boardroom, this rugged laptop is going to be at home out and about. It's been tested to withstand drops of up to 76cm, and has a water-resistant keyboard and strengthened glass on the screen.
For your average business, it's overkill. But if you work somewhere your laptop stands a good chance of taking the odd knock - on building sites, a factory shop floor or a warehouse, say - it could be a good buy.
It will go on sale in December. The price is likely to be a rather steep-sounding £1,700 or so. Get more information from the Panasonic website.