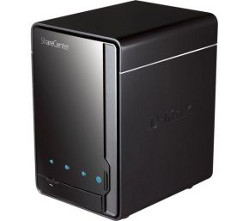 If you need to add some reliable and cost effective storage to your network you could do worse than going with a D-Link NAS (Network Attached Storage).

Ebuyer are currently selling the D-Link DNS-320 for £45.99 (plus delivery) so this offer is sure to run out soon! All you need is to add some hard drives, connect it to your network, and hey presto - you have network accessible storage for everyone on your network. This uses less power and is less noisy than a conventional server - plus you save a great deal of money if all you're after is a file server as opposed to a fully fledged Windows Server. 
This enclosure offers RAID1 which means you have the option to duplicate your data cross the two internal drives for backup. Other features include:
2-bay Network Attached Storage for 3.5" SATA drives
Gigabit connectivity for fast transmission speeds
User/group quotas for security and confidentiality
UPnP Media Server to stream media content to compatible media players
Web file server for easy access to your over the Internet
Built-in BitTorrent client to download directly from the Internet without a PC
Touch-button for one-step backup of USB memory sticks
Print Server to share a printer with other users in the network
FarStone Backup software included free
D-Link Green™: energy-saving design
What would you store on this if you had it on your business network?