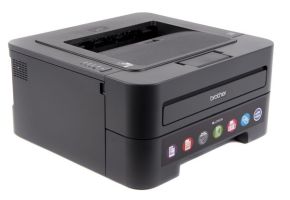 In need of a printer for work? Well, this Brother HL-2250DN Network Mono Laser Printer really is a business tech bargain at only £79.20 - that's a saving of £55.30 on the normal price.
This printer has a capacity of 250 sheets of paper and a maximum resolution of 2400 x 600 dots per inch (DPI). That means you won't have to reload it with paper every five minutes, and print quality should be nice and crisp.
See full details and buy now from eBuyer >>
About this tech bargain
This Brother laser printer has a print speed of 26 pages per minute (PPM), so you can print documents quickly. When you share this printer between several people, they won't have to wait too long for their print jobs to finish.
This printer comes with two USB connections, but most useful for businesses will be the network connection. This means you can plug it straight into your company network to share it between several users on different computers.