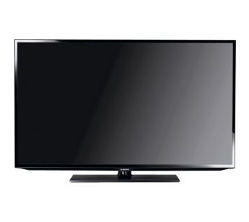 Here's a great tech bargain if you're looking for a good quality big screen to use in meeting rooms or your office.
You can currently get this Samsung UE40EH5000 40-inch widescreen TV for £359.99 all in from Amazon.
While it's true flat screen TV prices have fallen a lot in recent months, this is still an excellent price for a display that would be good for small meeting rooms or to show real-time sales figures in your office.
See it now on the Amazon site >>
For comparison - or if you'd rather support the High St - the same TV is £429 from Argos or £379 at Currys.
About this tech bargain
Samsung's range of big-screen TVs has received excellent reviews, and the Samsung UE40EH5000 is no exception. For a budget big screen, it's a great buy.
It has two HDMI connections which means you can hook it up to modern laptop and desktop computers, as long as they an HDMI connection.
If your computer doesn't have an HDMI connector, you'll need a VGA to HDMI converter too.