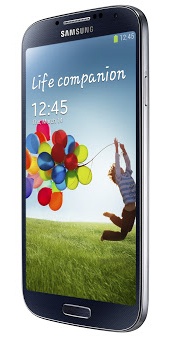 Samsung's latest, greatest smart phone, the Samsung Galaxy S4, is now available to pre-order. If you can't wait to get your hands on this impressive mobile phone, then now's the time to place your order online.
You will, unfortunately, still have to wait until the phone's official release. But over at Carphone Warehouse, if you order today you can expect delivery on 26 April, which is the day the new handset becomes available.
Place your order online now >>
There's a wide range of tariffs to choose from, which could see you pay as little as nothing up front (you'll have to commit to a two-year contract, mind you) to £590 to buy the handset outright.
You'll also receive a free accessory bundle which includes a screen protector, flip cover, in-car charger and 32GB memory card.
About Samsung Galaxy S4 pre-orders
Samsung announced the Galaxy S4 at an event in New York last month. Some of the handset's key features include:
Full high-definition screen, which isn't a first for a smart phone but does mean everything looks a little sharper.
An eight-core central processing chip, that'll ensure this phone runs superfast (there's a large battery too, to allow for the extra power it'll consume).
An NFC (near field communication) chip, which may - in future - allow you to pay for things by tapping your phone on a reader in shops.
A 13 megapixel camera, offering excellent quality photos and videos.
As with other Samsung smart phones, the Galaxy S4 will run Google's Android operating system, which means buying one will give you access to an enormous library of free and paid-for apps. It also includes 4G capabilities, ensuring you can use it on EE, currently the UK's only 4G network.
For all that, this phone isn't a vast leap forward over the company's existing S3. It's more of a careful evolution - which should still position it as one of the best smart phones on the market today.