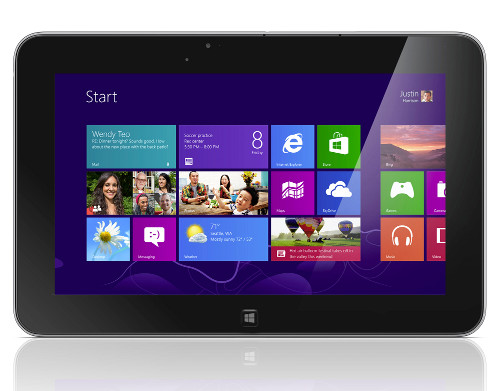 The Dell XPS 10 tablet, without the optional keyboard
If you're in the market for a new tablet computer, Dell has knocked £100 off the usual price of its XPS 10 Windows tablet, meaning you can pick up the entry-level 32GB version for just £199 + VAT.
We reviewed the XPS 10 earlier this year and found it to be a solid, capable tablet that has an astonishingly good battery life. Its one Achilles' heel is that it runs Windows RT, a cut-down version of Microsoft's operating system that can only run special Windows RT apps, and not standard Windows software.
However, the range of available apps is expanding, meaning you can still use this tablet for a wide range of tasks. It includes a version of Microsoft Office too, so if you opt for the model with the keyboard (from £289 + VAT) then you'll be getting a nice productivity tool at a bargain price.
You can also check out our review of this tablet if you're not sure whether it's suitable for you.