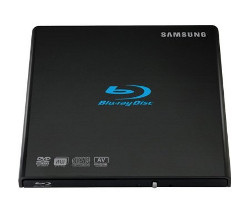 Even in these days of cloud storage and giant hard drives, removable discs have their uses. And if you need to cram a lot of data onto a single disc, you'll be wanting a recordable Blu-ray drive, like this tech bargain from Samsung.
It's an external Blu-ray recorder, which means you can just plug it into your computer via USB and start burning discs. There's no need to even connect a separate power cable, as this Blu-ray writer is powered from your computer's USB port.
It's made by reputable manufacturer Samsung and is currently available for £59.99 from both Amazon and Dabs.
See details and buy now from: Amazon  |  Dabs
Blu-ray discs are most often used to store high-definition video, and over the last few years they've begun to replace DVDs. However, just like DVDs, Blu-ray discs can also be used to store data. And because they offer a much higher capacity than DVDs and CDs, they're a good option for backing up and storing data.
Of course, Blu-ray discs created with this drive can only be read by other Blu-ray players. But you can also use it to burn data to standard DVDs and CDs.