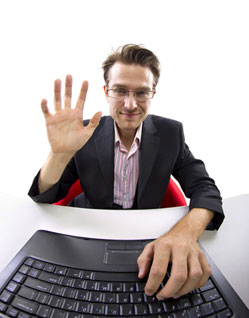 If research from recruitment specialist Hello my name is… (HMNI) can be believed, the hottest trend in job applications this year is going to be video.
That's right: while for years we've relied on handwritten application forms and CVs to identify good prospects from no-hopers, now employers could be set to receive videos from candidates when they apply.
Cringe-inducing?
The research questioned 1,000 business leaders and discovered that candidates who upload a video accompaniment alongside their CV may have an edge.
The whole idea sounds a little cringe-inducing — especially if you're not the sort of job applicant who feels comfortable making their own showreel — and so HMNI has given these short videos a suitably cringe-inducing name: the 'MeVie'. (We think it's pronounced 'me vee'.)
Although some video applications have caused a stir online (check out this inventive example), that's because they're currently the exception rather than the norm.
If your business starts receiving a three-minute video with every three-page CV, are you really going to sit there and watch them all before drawing up your shortlist?
Besides, doesn't video simply encourage employers to make decisions based on shallow attributes — like which candidates look good in front of a camera — instead of focusing on the things that really matter?
Put it this way: if you don't have a camera-friendly nature or the skills to record and edit video, you're going to be at a disadvantage. Even if you're the best candidate for the job.
M&S seem to like it
That said, the concept of the MeVie does have the backing of Marks and Spencer, so perhaps there is something in it.
The retail giant's executive director of general merchandise, John Dixon, said: "As an employer, there's no doubt it can be problematic differentiating between candidates by CV alone. The MeVie allows you to see beyond the CV to the person behind it."
I'll be honest: I'm not convinced. You'll still have to meet and interview the candidates you like, in any case. And surely the risk of video is that you might dismiss candidates who are uncomfortable or unhappy in front of a camera — while in reality they might be best for the job.
Would you start asking job candidates to send in video with their applications?