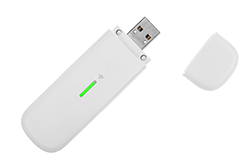 IT for Donuts is our regular Friday feature where we explain a tech term or answer a question about business IT.
This week: if you've been investigating how to connect to the internet when you're out and about, you might have been told that you need a dongle. So, what is a dongle and should you buy one?
Get online on the move
If you travel for work, it's important to be able to get online from different locations. You can use your smart phone to check for email and look at web pages, but it can be trickier getting online with your laptop or tablet.
Free Wi-Fi is a good option, but isn't always convenient. You usually have to buy a drink in a café. In rural locations it might not be available at all.
A dongle gives you flexibility in when and where you connect to the internet, because it lets you use a mobile data connection rather than requiring you to be near a wireless network.
This means you can get online wherever there's a mobile phone signal.
Alternatives to a dongle
A dongle isn't the only way to connect to the internet when you're out and about. You can also consider:
Tethering your laptop to your smart phone. You may be able to connect your laptop to your phone via Bluetooth, so your laptop can use your phone's data connection. However, some networks charge extra for this and it can run your phone's battery down faster.


Getting a tablet or laptop with a slot for a SIM card. Some laptops and tablets include a slot for a SIM card, enabling them to connect to directly to a 3G or 4G data network without a separate dongle.
What is a dongle?
A dongle is a small gadget that looks very much like a memory stick (see image).
Most dongles have a standard USB connection, so you can plug them into your laptop. They may work with some tablets too, although this depends which model of tablet you have.
A dongle has a slot for a SIM card, like the one in your mobile phone. Once you've inserted a SIM, it can connect to the internet.
How to use a dongle
To start using a dongle, you need a SIM card as well as the dongle itself.
All major mobile phone networks sell special 'data SIMs', designed to be used in dongles rather than mobile phones.
The amount you pay for your SIM depends on how much data you need to transfer. For occasional use, it's usually best to pay as you go, topping up your data allowance when it gets low.
If you'll be using the dongle regularly, you can get a SIM on a contract, paying a fixed amount each month (usually £15 — £30) for a fixed amount of data.
If you've not used a dongle before, a good way to get started is to buy a package that includes a dongle and pay-as-you-go SIM card. These are available for £30 — £50, including some data.
This lets you see what it's like to use a dongle in practice, before you sign up to an expensive contract.
Once you have your SIM card in the dongle, all you need to do is plug it into your computer. Most dongles will automatically install software to connect you to the internet. Then you can browse the internet as normal.
Dongle connection speeds
When you buy your dongle, you can choose between a 3G (third generation) or 4G (fourth generation) connection. Although 4G is faster, it's also more expensive and coverage is generally limited to larger towns and cities.
A 4G dongle will automatically drop down to 3G when necessary, so you'll still be able to get online.
In strong signal areas, both 3G and 4G dongles will provide a good enough connection to browse web pages and check email. However, 4G is better for transferring large files and watching video.