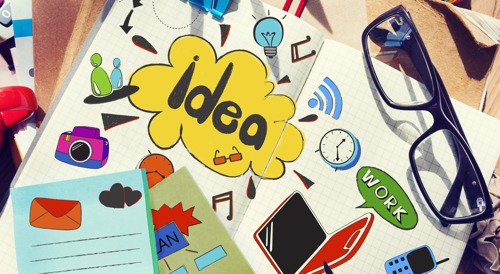 IT for Donuts is our regular Friday feature where we explain a tech term or answer a question about business IT.
This week, is it worth trying to design and print your own company brochures?
Do brochures still matter?
Although many companies consider their website to be their most important piece of marketing collateral, there's still a place for flyers, brochures and other printed materials.
These physical items give potential customers something tangible to take away after you've met. Unlike a website, which can be closed in seconds, a leaflet can sit on someone's desk as a visible reminder of your company.
Limitations of creating your own brochures
You'll always get the best results if you work with a professional designer and printing service to produce your brochures. But if you're on a budget, it is possible to create them yourself.
It's important to be realistic. When designing and printing brochures yourself, it's very hard to achieve the same standard as brochures that are professionally designed and printed.
If your brochures end up looking cheap or the quality is poor, the do-it-yourself route could prove a false economy.
How to create your own brochures
Professional designers use software like Adobe InDesign or QuarkXPress. As these packages are expensive and complicated, it's usually best to create your brochure using another piece of software.
You may already have something suitable. Microsoft Publisher is designed for this kind of work and has an easy learning curve. It's even possible to use Microsoft Word to create brochures.
It will probably be easier to download and adapt a template rather than creating your brochure from scratch. There are thousands of free templates available online. Try Microsoft's templates for Office, or these Xerox templates.
Template-based brochures can look somewhat generic. However, using a template beats trying to create a design from scratch if you don't have an eye for design.
Should you print it yourself?
It's worth thinking carefully about whether you really want to print brochures yourself. It can take hours to print and assemble brochures using your office printer, yet it's hard to match the finish you'll get from a printing service.
If you're printing more than a few brochures, doing them in-house may cost more, too.
Overall, professional printing is usually the way to go, unless you need to quickly run off a few copies of a basic flyer or simple factsheet fast.
Commercial printers will ask you to provide your brochure in a specific file format. If the files you supply are incorrect, this can delay the printing process.
Packages like Microsoft Publisher usually include an option to 'save for professional printing'. If you're not confident with this process, you can avoid it by using an online service that offers brochure templates and printing as a single package.
Companies like Vistaprint, Print UK and Printing.com provide a start-to-finish brochure service. You can design a brochure online using their templates, then order the printed brochures once you're happy.