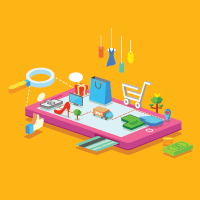 If you're starting or running an online shop, you'll know there's a lot to think about.
Just getting to grips with the basics can be challenging. Choosing an online shopping system, working out how to get paid, putting together your product catalogue and then making sure people can actually find your website are all tasks which take time and effort.
Then it can seem like there's a never-ending list of things to think about. Are your prices right? Where should you advertise? Are customers happy with your delivery options? What are your competitors up to?
An enormous collection of resources
If you're grappling with some of these problems, don't forget why you might have set up online in the first place.
It's typically much cheaper and easier to start selling online than through a High Street shop. And instead of having to rely on the right people walking past, you can sell worldwide.
On IT Donut — plus our sister site, Marketing Donut — we've put together lots of useful resources, tips and advice to help you run an online shop. You can see some of the most popular at the end of this post.
But we also like this enormous collection of resources from iWeb. It's an 'interactive flowchart' (no, we've not seen one before either) that claims to tell you how to set up an ecommerce website.
In reality, the information available covers much more than just how to get started. There are all sorts of ideas about everything from search engine optimisation and seasonal promotions to email marketing and content strategy.
It's definitely worth a look if you're running or setting up an online shop.
Visit the ecommerce guide from iWeb >>
Our ecommerce resources
You can also access lots of great ecommerce advice on our websites. For instance:
Basic ecommere advice:
Improving your website:
Ecommerce case studies: