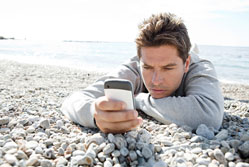 New rules have come into force that slash the cost of making and receiving calls, sending texts and using mobile internet in other EU countries.
Recent years have seen the EU clamp down on roaming charges by introducing caps to limit how much extra mobile phone networks can charge when you visit another EU country.
EU roaming is cheaper than ever
Over time, the maximum charges allowed under the caps have been reduced. Under the latest rules, you can be charged a maximum of:
20 cents per megabyte (MB) of data
19 cents per minute to make a call
5 cents minute to receive a call
6 cents to send a text message
The European Commission has created an infographic to show you roughly what €10 should now get you.
Ultimately, European leaders hope to eliminate roaming charges altogether. Yes, one day you may be able to use your phone anywhere in the EU without paying extra for the privilege.
So, this is the perfect good news story for the beginning of the holiday season, right?
Well, while most people would probably agree that roaming costs have been too high for too long, there are a couple of less-positive aspects.
Should you choose a bundle?
For a while now, many UK mobile phone networks have offered add-on bundles to people who are travelling abroad.
For instance, if you're travelling in Europe, EE will give you 100MB of data for £3. The data expires after 24 hours, but it's a good deal if you plan to use the internet a lot, even compared to the new capped prices.
The thing is, many people get confused about how much data they actually need.
With standard roaming costs now lower than ever, it may be in the interest of mobile networks to push people towards bundles — even if that's often not the best option for their customers.
Opting out of roaming
Now EU roaming is cheaper, you can bet we'll do more of it. And that raises a broader question: when we're on holiday trying to 'get away from it all', is it really a good idea to stay in such easy contact with the office?
Going on holiday can make you feel better for weeks or months afterwards. Switching off completely lets you relax properly, rather than thinking about all the things happening back in the office.
That temptation to check your email while you're on a break just got slightly stronger. Can you resist it?
John McGarvey is editor of the IT Donut