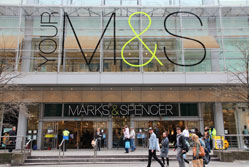 Marks & Spencer's new website - which launched in February - reportedly cost an enormous £150m. No, we're not quite sure how on earth it's possible to spend that much on a website, either.
Yet despite this huge investment, things haven't gone quite to plan.
The company's online sales dropped 8% in the 13 weeks previous to 28 June, despite this shiny new site that was - presumably - intended to make it easier for consumers to part with their cash. Oops.
High stakes website redesign
It's tempting to chuckle at the online misfortunes of a big retailer like this. But in truth, launching a new website is a high-stakes game for anyone.
No matter whether your online business is a one-person micro-company or a 130-year-old icon like M&S, you never quite know what's going to happen when you flick the 'on' switch.
For starters, some current customers will almost certainly be confused by and resistant to the change.
Even if your old website was a nightmare to navigate, your most loyal visitors will have got used to it. When you redesign it, you force them to learn a new way of doing things.
Every website redesign faces this problem, but M&S appears to have compounded things by forcing existing customers to re-register on the new site.
Yes, even if you've made regular online purchases in the past, you're apparently forced to re-enter your details before you can buy online. As anyone with any experience of selling online will know, that's bound to affect conversion rates.
We can only assume that some kind of serious technical issues prevented M&S keeping the old user database, because it's hard to understand why any retailer would choose to start from scratch again in this way.
Does M&S face fundamental issues?
More worryingly, some industry commentators think the site faces fundamental issues. According to this Marketing Week piece, retail analyst Neil Saunders reckons the new M&S.com has forgotten some of the basics:
"…it falls down in the more critical function of making it easy for customers to purchase. Indeed, there are some parts of the site where it is extremely difficult for customers to understand the path they need to take to buy product."
It's far too early to tell whether the M&S website will be a long-term success. But if you're planning to re-launch your ecommerce website, here are three ways to avoid similar problems:
Stay focused on conversion. Your website is useless if it doesn't sell. When considering design approaches and evaluating features, ask one simple question: 'will this improve our conversion rate?'
If not, or you're not sure, steer clear. It's easy to get distracted by bells and whistles during the exciting process of creating a new site. Yet visitors want a simple site so they can buy what they want, fast.
Show customers your website early. Share wireframes, prototypes and designs with current and potential customers to see what they think.

On bigger website projects, it can be helpful to build a basic prototype, to see how people fare when they use it. Is it easy to find your products? Can customers figure out how to check out?
Consider a limited release. If you run an online company, your website pretty much is your business. When you launch your new site, see if you can find a way to run it in parallel with the old for a while.

For instance, you might use A/B testing tools to show 20% of visitors your new site, while the other 80% see the old one. Once you're confident the new site is performing, you can roll it to 100% of visitors.
Have you launched a new online shop recently? How's it performing? Leave a comment to let us know.
Image copyright: Tupungato