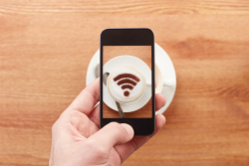 There's a growing expectation among consumers that Wi-Fi should be available when they walk into a large retailer, shopping centre, hotel, café or other hospitality business.
So, if you feel obliged to provide free wireless internet access to your customers, how can you use it as a marketing and advertising tool?
Many business owners see Wi-Fi as an expense, without realising it's an investment on which they can show a return.
Wi-Fi is a gateway to opportunities
Something as simple as a wireless network can help market your business in a number of ways:
Understand your customers. You can collect basic information about customers when they connect to your wireless network. Just ask them to answer a few questions to get online. For instance, request their name, age and contact information.
Show you're ahead of the game. Offering services that are relatively new but growing in popularity — such as guest Wi-Fi — can set you apart from competitors. It's particularly powerful if customers might not yet have come to expect free Wi-Fi from businesses like yours.
Reinforce your brand. You can buy wireless routers that allow you to show a welcome page when a user connects. Use this to remind customers of your products and offers — or maybe even promote exclusive deals for Wi-Fi users.
One other big benefit
Finally, don't forget the biggest benefit of all. Free Wi-Fi is a powerful marketing tool in its own right.
Consumers love to browse the internet, check their emails, update their social networks and more — no matter whether they're having lunch, staying in a hotel or doing the weekly shop.
A free Wi-Fi service works to market your business all by itself, encouraging more customers to come through your door.
Copyright © 2014 Bal Rana, founder of Freedom Hotspot.