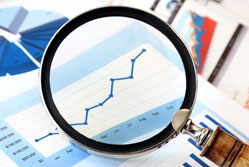 Big data is the idea that businesses can start combining and mining the data they own in order to identify new opportunities and make decisions. It's, well, big at the moment.
But there's a problem. According to research by Rosslyn Analytics, only 23% of UK decision-makers closely align business strategy to data. And just 44% of business leaders consider their data a strategic asset. You can download the whole report here.
Respondents said that the biggest challenge to using their data effectively was that there are too many types of data and that data comes from too many sources.
And they have a point. Big data is intimidating, especially if you run a smaller company that isn't able to employ a data analyst or bring in a consultant.
In that case, maybe you should start smaller.
With that in mind, here are four practical ways your business can collect and use data on a smaller scale. You don't need a degree in maths or statistics to get started.
1. Jump into your web analytics
How often do you check your website statistics? No, really, when was the last time you logged in to Google Analytics? (If you don't collect data on your website usage, you really should and it's fairly easy to get started.)
Website statistics packages accumulate a lot of data. If you're looking for easy ways to improve your website, you could start in these areas:
Check how many visitors use mobile devices. In Google Analytics, select Audience > Mobile > Overview in the left navigation. You'll see what percentage of people arrive at your site on a mobile device. If it's a significant proportion, the data is telling you to spend some time making sure the mobile experience of your website is up to scratch.
See which three pages get most views. On most websites, a few pages receive the majority of traffic. Checking which are your most popular pages will help you focus your work on the areas of your website which attract most eyeballs. In Google Analytics, choose Behaviour > Site Content > All Pages.
Check your top landing pages. The moment people first see your site is crucial. Give the wrong impression and they'll bounce back off to wherever they were before. In Google Analytics, select Behaviour > Site Content > Landing Pages. Review the top four or five pages listed – these landing page tips are a good place to start.
2. Fire up your accounting reports
If you use accounting software — particularly modern packages like QuickBooks Online — you'll find you have easy access to a range of reports that can delve deep into your figures.
It's not uncommon for these reports to stay unused. But if you want to understand your financials, playing around in these reports can be much more enlightening than wading through pages of figures.
Here are some ideas:
Viewing sales grouped by customers can help you understand who your best customers are. You might also be able to identify when clients are beginning to spend more with you (can you lock them in with a discount?), or if a previously loyal customer is cutting back spending.
Checking your business expenses is a key step in identifying ways to cut costs. You won't always notice if expenditure is creeping up month-on-month, but if you take five minutes to check the report you'll soon know when this is the case.
Reviewing your stock list helps you evaluate how much money is tied up in products you sell, and can make it easier to plan sales and discounts. It also helps you estimate when you're going to run out of popular lines, so you can reorder in good time and avoid disappointing customers.
If you're not already using accounting software in your business, it's a powerful way to save time and get your head round your finances. Learn more about accounting software.
3. Run a quick survey
Market research doesn't have to involve masses of survey questions, months of work and a chunky report that tries to define your business strategy for years to come. You can learn a lot by running short, snappy surveys. For instance:
Ask website visitors a single question. Tool like Qualaroo can pop up a question as people leave your website. Questions like 'what were you looking for here today?' or 'did you find what you wanted?' can help you understand what's missing from your \site.
Contact your newest customers. What made these people choose you? Are they happy with the service you've provided? What could you have done better? It's easy to create a short survey using a tool like Typeform, then email to a few new customers.
Ask employees what they think. Some business owners are great at soliciting ideas from their teams. Others are rubbish at it. Why not send round a survey (again, try Typeform or SurveyMonkey) that asks an easy question, like what's the one thing they'd change about the office?
Quick-fire surveys are an excellent way to gain a better understanding of what people do or don't like about your business.
You can learn things from even the smallest surveys, but be wary of using single pieces of feedback to justify big changes. It's best to act only when you can see a clear pattern to the comments you're receiving.