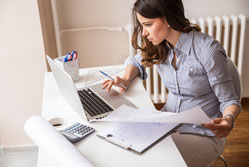 When you're running a smaller business, you don't need to hire an expensive accountancy firm to keep your finances on track. Nor do you need to spend hours wading through complicated financial reports.
Many accountants provide software that makes it easier for your company to maintain your accounts and balance your books online. These cloud accounting services - where your data is stored and accessed online - can be an excellent option.
They make it easier to monitor revenue, generate invoices, track cash flow and manage payroll. Your business's financial information stays secure, but you can access it no matter where you are.
What's more, using an online accountant will often be cheaper than working with a High Street firm.
There are many online accountants available, offering a range of services for a range of costs. This means it is important to think about your needs in order to determine what specific features your business will need.
However, here are five features that are a must for any business considering online accountancy:
1. Fixed accounting prices
Look for an online accounting service that charges a fixed monthly fee. Ideally, this should include unlimited telephone and email support, plus access to your own dedicated accountant.
If you don't choose a fixed-fee service, you could be hit by a bill that's higher than you expect. If your accountant charges for their time, you might be charged every time you email or call them.
2. A mobile accounting app
One of the biggest things going for online accounting is that it's available 24/7. There are no office hours. This flexibility should be matched with a mobile app that lets you manage your money from anywhere.
A mobile app allows you to sign in and manage your money from any location. You can easily stay up-to-date with relevant projects and make sure you don't miss any deadlines.
3. One point of contact
You'll have to deal with a real accountant at some point, even if you have the very best online accountancy service. Many online accountants provide a generic telephone number or email address for queries or issues. This means you can end up talking to a whole variety of people.
It's better to find a firm that offers a dedicated personal accountant. This means you'll always get to speak to the same person. They'll get to know your business, so you won't have to tell them the full story every time.
4. Comprehensive online help
With access to the right information, you can handle more of your finances yourself. The benefit of doing this is that it keeps you closer to your figures, so you always know what's going on.
It's easier to work this way when your online accountancy service provides a substantial online knowledge centre or help website. Make sure this support is in place, perhaps via an FAQ section, support documentation or user forums.
5. A proven track record
Online accountancy is an increasingly popular way for smaller companies to meet their accounting needs. Make sure the supplier you choose has a solid reputation - both as a business accountant and as an online company.
Many online accountants will give you a quote via their website. Do not jump at the first one you get. Take out a few quotes to compare prices and service levels. 
Sponsored post: copyright © 2015 Rachel Smith, Technical Writer at Nixon Williams's Vantage Online Accounting.