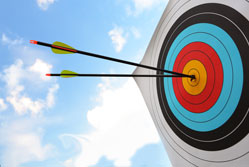 How does your company website stack up against bigger competitors? New research suggests that smaller companies can sharpen their competitive edge by creating websites that are mobile-optimised and personalised to meet the preferences of individual customers.
An online study of over 2,000 British adults found that small businesses rule when it comes to personal service. A whopping 71% of people said smaller companies deliver a more personalised offline service than bigger ones.
However, 59% of people felt that big businesses generally have better websites. Given that such companies typically have generous budgets to build customised sites, that's perhaps not a great surprise. (They don't all go to plan, of course - just look at Marks & Spencer.)
The research was commissioned by web hosting firm 123-reg and conducted online by YouGov.
And it suggests that small companies could clean up, if only they can find some way to deliver that same personal service online. After all, they're already beating big competitors in other contexts.
The problem with online personalisation
The problem is that it's not easy to deliver personal service via a website. On the internet, personalised content risks coming across as clumsy or misguided.
Just take retargeting banners, beloved of many an internet marketer. These are used to encourage you to buy a product that you've shown interest in.
After you've viewed a product on a website, you often see repeated adverts for the same thing as you browse different websites. That's retargeting in action.
Retargeting banners do work in some circumstances, but they can also engineer irritation and mistrust in customers, who get tired of seeing the same adverts over and over and over again. Worse, badly-implemented campaigns can see you targeting customers who've already bought your product.
But let's not get hung up on retargeting. The point is that it's easy to do personalisation badly. To do it well requires you to tread a fine line between showing customers that you know them, without becoming repetitive or overbearing.
How to do personalisation right
So, when you want to incorporate personalised, targeted elements to your website or mobile app, it's a good idea to proceed with caution.
Try to find some way to measure the impact of any changes. You could perform an A/B test, or at least try to monitor any change in conversion rates.
With that in mind, consider starting with some basic personalisation, such as:
Greeting customers by name if they're signed in, and tailoring this greeting depending on the time of day. For instance, say 'good evening' if they're browsing after 6pm.
Detecting a visitor's location and then using this to show them personalised content. For instance, you could show your nearest branch, or offer people in a certain town an extra discount.
Altering your main call to action depending on the time of day. For example, if it's late afternoon then a restaurant's website could offer the option to 'book a last-minute dinner reservation'.
Showing personalised recommendations based on what each individual visitor has previously purchased. (You'll probably have seen similar functions on big online shopping sites, like Amazon.)
In any case, it's definitely worth experimenting. As part of its research, 123-reg joined forces with Patrick Fagan, a behavioural scientist.
"The experiment shows that SMEs could almost halve lost sales opportunities and double their propensity to return to a site by using information about the visit to show specific content," he explained.
"It also highlighted that personalisation of a site significantly affected people's trust and empathy with the business which, in turn, directly translated into purchase and behavioural intent."
Or, in other words: appropriate personalisation really does help you sell more stuff.
Tools to help with online personalisation
If you want to incorporate personalised, targeted elements into your website or app, there are a number of ways to proceed.
The options available will likely depend on how your website is built. So, if you're planning a new site, it's a good idea to consider personalisation features before you get started. You might be able to:
Use an ecommerce package or website building service that offers personalisation features. 123-reg has its own website builder, and other web hosting companies have competing packages.
Use a plugin to add targeting functions to your website. For instance, if your website is based on WordPress, there are many plugins that allow personalisation based on user location, preferences and more.
Get your website developer to build personalisation options into your website. If you've designed and built your website from scratch, this might be the only viable option - although it could also be costly.
Ultimately, your website is likely to be a key sales or marketing channel for your business. (And if it isn't already, it certainly has the potential to be so in future.)
With personalisation and targeting steadily becoming more common, now is a good time to consider whether personalised content could make it easier to compete with larger rivals.