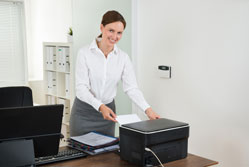 Network-connected printers have become a cornerstone of the modern work environment. They let you have one printer to which anyone in your office can print, rather than requiring employees to operate individual printers, or to print from a particular computer
Why get a networked printer?
A network printer is one device for everyone. Because it's connected to your computer network, anyone in your business can print from it. They don't have to email documents to their long-suffering colleague who has the printer on their desk.
It may also be one device for (almost) everything. That's because, despite the name, network printers often do more than just print.
Many have copying and scanning functions built in. Typically, you can scan a document and have it emailed to a specific person or saved to your central network drive.
There are obvious benefits to this approach. For instance:
Instead of managing several printers, scanners and other pieces of equipment in your business, you only have one device to worry about.
You can print from any networked device, not just computers. For instance, print wirelessly from a smart phone or tablet.
It's easier to keep track of what you're printing and when, because you can create a log of all print jobs. This also means you can oversee all operations or even impose individual print quotas.
Many networked printers include comprehensive management software, so you can lock-in settings such as double-sided printing or cover sheets.
Buying one powerful printer may cost a similar amount as purchasing a basic printer for each employee. However, it will usually print faster and have lower running costs.
But perhaps most importantly, networked printers are more efficient. With a dependable way to run off high-quality hardcopies, your staff will spend more time focusing on their work, and less time faffing around with a cheap or unreliable printer.
"Network printing really supports the modern office, simplifying daily tasks and making complicated processes incredibly efficient," explains Christian Ralph of Printerland, the printer and ink company.
"The increased capabilities of modern printers have made it easier for offices of all sizes to add multiple devices to a single machine."
How to set up a network printer
Setting up a networked printer is usually fairly straightforward, so you won't necessarily have to pay your IT supplier or support company to do it for you.
Having said that, if your printer includes centralised management software or other advanced functions then you may want to seek advice before ploughing ahead!
To set up a networked printer, there are two options:
1. Use printer sharing
Cheaper printers may not include a dedicated network connection.
In this case, you'll need to connect the printer to one of your office computers (or servers). You can then use the software on that computer to set up printer sharing.
This will allow anyone in your company to access the printer, but only when the computer to which it's connected is switched on.
2. Get a direct network connection
If you can, it's best to invest in a printer with a dedicated network connection. This might cost a little more, but means you'll be able to print without having to first check that a particular computer is switched on.
Printers that are connected to your network directly are usually faster and more reliable. Most businesses take this approach.
If you use Windows, Microsoft provides lots of information to help you set up a printer using one of these methods.
Keeping an eye on the risks
Modern printers are very different to their counterparts of 10-15 years ago. Your typical networked printer isn't a 'dumb' slave to your computer; it has processing power, memory and even software of its own.
It uses this to manage print queues, optimise print jobs, resize images and more.
Occasionally, this increasingly-sophisticated software can go wrong. Back in 2013, a Xerox photocopier had a bug that meant it sometimes changed the digits in documents that it copied.
And, just like any other computer, networked printers can fall victim to hacking attacks.
Indeed, they could conceivably provide a soft target, as businesses may overlook the importance of protecting a networked printer. (Hackers have previously targeted broadband routers in a similar way.)
Printer manufacturers are aware of these issues, of course. Many have developed security software that protects these devices from attacks. And your business should make use of it.
Do your people know how to use a printer?
Printing off a document isn't always as simple as it looks. Employees may have to grapple with confusing quality and paper setting. Some companies even have smartcard or PIN-based systems to control printing quotas.
If staff don't know how to use these features and settings properly, it can waste their time - as well as ink and paper.
Sure, 'printer training' can be a tricky one to sell to your staff. But if you can overcome the 'do I really need that?' factor then it can help to develop standard, secure printing practices across your business.
In short, creating a positive printing environment can standardise all your printed output. That means quality will never suffer - and cries of 'is the printer working?' should be few and far between.
Sponsored post: copyright © Printaland