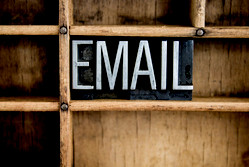 Email was recently named the technology that has most transformed how we work in the past ten years, above smartphones.
This trend isn't going to slow down any time soon. As email evolves through cloud computing, automation, integrating into social and becoming more focused around mobile, we need to make sure we keep up - as both senders and recipients - in order to make the most of this medium.
Here is a list of seven innovative tools that'll make sure you get the most out of your email marketing:
Make your contact list go further. You work hard to acquire new email addresses from prospects and customers. By using something like Clearbit you can make sure the contact list you've built up goes the extra mile by being transformed into a CRM, populated with relevant information.
Get real-time notifications from your emails. Ever wonder if that email you sent to a prospect was ever opened? Well wonder no more. Use a Chrome Extension like Sidekick to receive real-time notifications on personal and business emails. So next time you're unsure whether to check back in, you'll be able to gauge their interest by seeing whether they haven't had time to read your email yet or they've seen it and are just subtly turning down your offer.
Consolidate all the information you get from customers and use it for email marketing. Try a tool like Segment.io and make sense of all the information you're already collecting from your customers from different platforms. Then use this data to hone your email marketing by sending the right message at the right time, to the right audience. Watch your conversions multiply!
Get smart when it comes to collecting email addresses. Are you looking to capture more email addresses from potential customers? When it comes to email marketing, nothing is more valuable than a good contact list. With a tool like SumoMe you can collect email addresses at the right time, on the right page of your website and have them saved on your email service provider's platform. This can increase the number of addresses collected and ensures your contact list is populated by real prospects.
Don't underestimate transactional email. Recent studies have shown that transactional emails that include personalised offers drive up conversion by as much as 20%. If you're already sending transactional email, then revisit your copy to see how you can use this strategy to boost sales.
Automation is the future. Email and marketing automation has been a hot topic for a few years now. But it's only now reaching SMEs and more casual users. By using a service like SendWithUs or Mailjet, you can create automated trail of emails (drip campaigns) to be sent out based on user behaviour on your app or website, communicating with them at the right time with a specific and high converting message.
Manage everything from your inbox. Inbox by Gmail is another indication that email is at the centre of our daily personal and business communication. With this new(ish) product, Google has created a tool to help you collate anything from to-do lists to automatic flight reminders to set your alarm through your inbox. Now you won't have to go on multiple apps to organise your life.
Copyright © 2016 Amir Jirbandey, marketing lead UK at Mailjet.