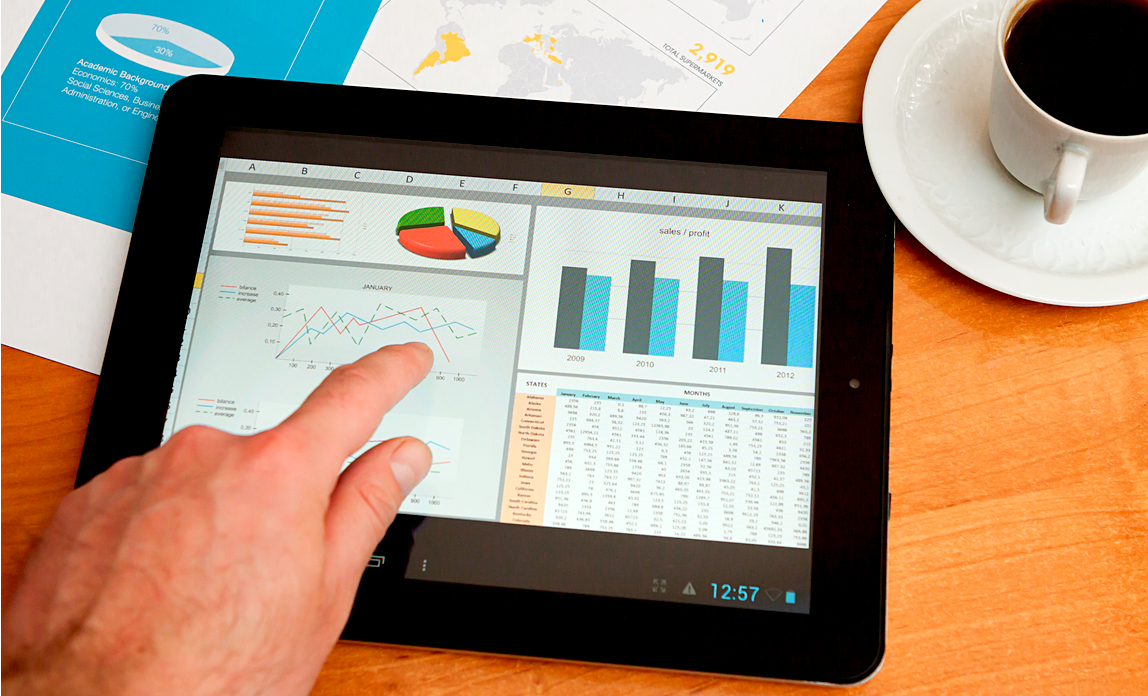 There is a silent but potent revolution taking place in business reporting and analytics that puts you, the small-business manager, in line for real benefits. All you need to do is to grasp the opportunity.
It is always good to have a better understanding of your business. But if you can reduce the cost of achieving this to almost nothing, then suddenly the business case is a big "no-brainer".
In my opinion, the leader of this revolution is Microsoft, with its Power BI service, but there are other very compelling services available such as 9-Spokes which offers a free and automated online small-business dashboard. A growing number of accountancy practices and banks are also starting to offer these kinds of services to small businesses.
What all these services have in common is that they automatically harvest the data you already have in your business systems: accounting software, ecommerce systems, websites, social media, email marketing and customer management systems. This data is automatically extracted, enriched and analysed and is then presented back to you in a dashboard where you can see at a glance what is happening across your business.
This offers you simple ways to grow productivity by doing fewer of things that don't drive value (like searching and compiling information) and taking targeted action with your precious resources.
Save time and money by doing less
Think about it. We all understand the importance of clear communications and a common understanding across your management team. It makes sense, right? How much time do you spend producing and looking for reports? And then, when you finally get them, looking for more detailed information that simply isn't there?
What happens when the person in your organisation who is responsible for reporting is sick, on vacation or simply busy with something more urgent? How long do you have to wait to see how your business performed last month? By the time you get the information, it is only telling you what you already know and it is too late to do anything about anyway.
If you could automate this report production process, with information updated every day (or even every hour), how much time and money could you save?
A single action is worth a thousand bar charts
While reports and visualisations of your data are useful in a general sense to help understand your business, the real benefits come from the actions you take as a result.
Take a look at this example below. This is a screenshot of one of the visualisations from the Microsoft Power BI Content Pack for Sage 50 Accounts. With the correct analysis, your sales invoice data can reveal enormous insights into your business to support tactical and strategic decision-taking.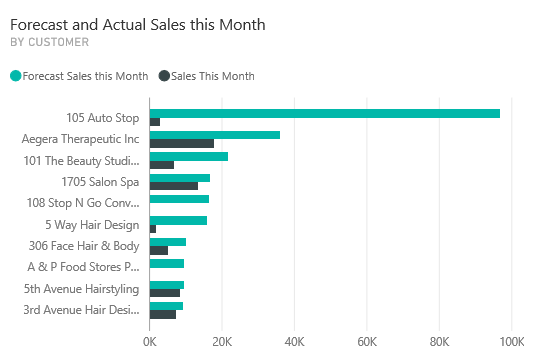 This simple visualisation shows forecasted sales compared with actual sales so far this month by customer. It is halfway through the month and in about two seconds it is possible to see which customers need attention right now. If you can free 30 minutes to make a few customer calls, how valuable is information like this to you?
If you think this kind of analysis of your existing data could be useful, you can speak to your IT service provider or accountant for advice about driving better insights from your business data. Just remember if they make it sound super-complicated and expensive then perhaps you are talking to the wrong person.
Sponsored post. Copyright © 2017 Hugh Johnson is SVP of Suntico. You can connect with Hugh on LinkedIn.