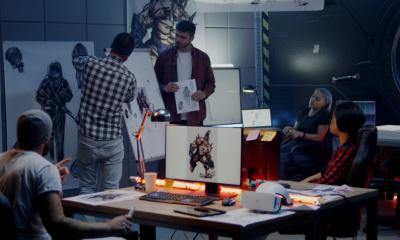 Consumer demand for high quality gaming products is constantly growing. At the same time, advanced development resources have greatly simplified the custom video game programming process. If you're thinking of starting a custom video game development agency, there are several steps you will need to take. Taking the proper steps can help guarantee that your business is properly planned, protected and legally compliant.
If you are interested in discovering how you can start a custom video game development company, read on.
Consider starting small
As you prepare to launch your video game development company, you may want to consider starting small. Custom video games combine dozens of art forms and sophisticated technologies. For a solo developer, it is nearly impossible to develop a high-calibre custom game by yourself. This is the reason why most indie video games are incredibly simple, two-dimensional games.
If you do want to develop a custom program that is more complicated, you will probably need to enlist the help of fellow developers, graphic designers, gameplay experts, and project managers. Before forming your video game development agency, consider the benefits of starting off small.
Purchase the required hardware
Once you have defined the scope of your game development team, you will need to purchase the required computer hardware. Custom video game development requires specific, advanced hardware to carry out key tasks like animation, programming, audio, and modelling. Most importantly, you need a computer with powerful specs to support high-end gaming.
Once you have purchased the computers, you'll need to strengthen your graphics card and CPU. At the same time, you'll need a hard drive with plenty of RAM (at least 8 gigabytes). Finally, you'll need multiple monitors for your development team. They will need at least one but ideally, you should provide everybody with two additional monitors.
Install advanced game development tools
The next step is to install advanced video game development tools. Developing a custom video game entirely from scratch can be an incredibly complex, challenging process. Remember that custom games combine components like sound, texturing, animation, modelling, and of course, coding. Advanced programming resources are available to help you create a video game of your own design. Harnessing the power of these resources will have a significant impact on the quality of your completed project.
To deliver high-quality products, many custom development teams have utilized tiny, easy to use, header-only libraries for game programming like EnTT. EnTT delivers a reliable, innovative entity-component system (ECS) model for your custom game development pipeline. This powerful resource has been used to deliver incredibly popular video games such as Minecraft.
Create your first product
With the proper hardware and development tools integrated, you can begin to create your first custom video game project. You need to perform extensive research in order to thoroughly conceptualize your first product. Some development agencies form their company based on a single game concept. If this is not the case, consider performing market research within your target audience to brainstorm video game ideas. Conduct focus groups and surveys to find out what modern gamers are looking for in a new release.
At the same time, you need to follow any trends that are transforming the industry in order to remain up to date with what the market is demanding. Before you conduct testing or plan a release for your video game, ensure that your product is 100% complete.
Protect your intellectual property
Before you take your custom video game to market you need to make sure your intellectual property is properly protected. Your idea, design, concept and brand, all need to be sufficiently protected. This means you must apply for the necessary trademarks, copyrights and other intellectual property protections.
To further protect your assets, you should apply for business insurance to protect your financial wellbeing in the event of a covered loss. The most common form of coverage for small businesses is General Liability Insurance, however, there are dozens of additional policies to further protect your property.
In summary
There are several steps you will need to go through when starting a custom video game development company as outlined above. Taking these will help ensure success for your business.
Copyright 2020. Featured post made possible by Daniel Bailey