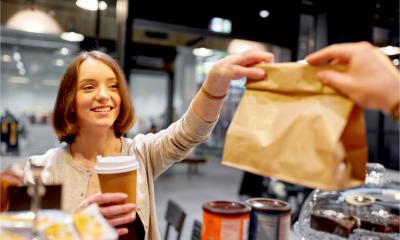 Owning and running a small business can be a rollercoaster ride. You will experience incredible highs but can quickly crash back to earth. 2020 has been a prime example of this. Depending on the industry in which you operate, you might have had a really tough time, particularly if you're in the hospitality or travel industries. Many businesses in these sectors have had to make redundancies or close up shop altogether.
The COVID-19 pandemic has forced many businesses to look for ways to get an edge over their rivals and do all they can to stay in business. One of the ways businesses are doing this is by connecting with their customers. Some bigger businesses do this quite well, but then it's easier for them as they have greater resources at their disposal.
Businesses connect with customers in many different ways depending on the type of business and the management style of their owner. Copying what your rivals are doing doesn't always work. You need to connect with customers in a way that is right and appropriate for your business. Assess what is feasible for your business. How much time do you have to put into this endeavour? How can you leverage your business to make a connection which will garner customer loyalty and bring in new sales?
These tips can give you something to think about...but remember, before starting any new activity you must assess what is achievable and realistic first.
Use safe contact points
You can't connect with your customers if you don't know what they're thinking or what they want to talk to you about. If you sell your services or products mainly online, and don't get to build a personal connection with your customers, you need to ensure people can contact you. Website chat software can help you achieve this. Just make sure you're using reputable software to ensure your site security isn't jeopardised.
Make it easy for customers to contact you. Most websites include a contact page which is easy to find from the navigation bar. Alternatively, you can include your contact information at the bottom of your home page. This usually includes an email address or a phone number.
Make sure your phone line is manned and that your respond to all queries as quickly as possible. Setting up an email auto response, detailing the approximate time it'll take for you to reply is a great way to manage expectations. If you have an answerphone message, make sure it's up to date and professional. Keep an eye on your social media accounts too. It's not uncommon for customers to contact companies directly via Twitter and other social media channels with queries, complaints, and feedback.

This might sound obvious but simple interactions like these can damage your reputation if messages are left unanswered or queries are handled badly. You might want to leave an address too if you're old school. Although writing a letter of complaint is less common these days, some customers might want to. Again, it's about appealing to everyone and not cutting anyone out.
The persona always wins
When you're working, you're representing your business. If you snap at a customer and become annoyed, it could come back to haunt you. Any response you make could be shared with millions of people online so exercise caution. If someone annoys you in an email, avoid responding straight away. Sit on it and let any anger you may feel subside.
The same rule applies in a face-to-face context such as in a shop or a restaurant. If someone is annoying or rude, try to stay calm. If they're annoying or hurting other people, ask them to leave. Try to maintain a professional manner at all times. Everything and anything can be recorded and shared online these days. You should remind your workers of this too. You need to remain professional when dealing with your employees too. Keep it professional. There will be times you're stressed out and angry, but just try to keep it sweet.
Newsletters
You probably get hundreds of newsletters each year. And you might even delete them from your inbox as soon as you see them. That's fine, as long as they aren't landing in your box daily.
Newsletters are a great way to keep in touch with customers and let them know how your business is doing. You might be launching new services or products, announcing a new member of staff, or longer opening hours. You can build your own email list through purchases made through your website. However, don't just send them out unsolicited. Make sure recipients have opted in and that you include an option to unsubscribe. Failing to do so can land you in hot water.
Keep your newsletter short and punchy. You might want to hire a freelance writer to do this for you if writing great copy isn't your forte. Keep the tone of your mailing professional too, you don't want to be sending out something immature. Physical newsletters may feel dated and can cost you way more than an email newsletter. However, there may still be a place for a physical newsletter if you operate in a local community as they can allow you to connect with your customers. Again, this comes down to understanding your business and customers.
Samples
Samples are a great way to connect with customers. Especially when they're free. Skincare and beauty businesses do this a lot. If someone buys night cream, for example, the company might include a small sachet of day cream too. If the customer likes it, they may go on to buy it.
Restaurants can utilise this too and it's a great way to connect with customers - especially if you're giving something away for free. Samples brighten people's day, however momentarily. You just need to work out the best way to distribute them. If you're running a restaurant this can be tricky because you might want the food to be hot. This means giving samples out close to your place of business. This isn't always bad though because you're targeting the people in the local area.
Remember, you need to pick the right product to give away too. Sample what you want to sell more of, or which has the broadest appeal. Play it logically and you can up your sales in another area.
Social media
Social media is one of the best ways to connect with customers. Twitter is probably the key platform, but you can connect with customers on other platforms too. If you scroll through Twitter, you'll see many examples of businesses talking directly to customers who are complaining or asking for advice. It's a great way to speak to multiple different customers and has the advantage that your response is visible to other customers. If you respond to a query via email, the solution is emailed to the person in question and goes no further. Do it on Twitter and everyone sees it, meaning you have to deal with fewer queries if there's a problem.
Most people have a social media account of some form these days. In fact, many customers go straight to Twitter before going to a company website when they have a problem. You should try to ensure you have a presence there.
How else do you interact with customers online? Do you post content that is of interest to your customers? In your content you can mention what you do or provide a link back to your website. It works. You just need to make sure you post content regularly. Again, you can hire people to do this for you if you'd prefer.
Coupons
Coupons, money off voucher and discount codes (both physical and digital) are a great way to connect with your customers because you need to give them out. They can also deliver a flurry of activity around certain products if advertised properly. You can do this via the newsletter, on your website, or by giving them out in person if you want to attract local customers.
Giving coupons away with free samples, or to people who subscribe or like your social media platforms, doubles your reach. You'll often see small businesses doing giveaways to those who like/share their pages on social media. It's a great way to pull in more customers as others, who don't follow you, will join to get the offer too. Coupons can be used through any medium as long as you have the infrastructure present to go so.
However, you should exercise caution when using discounts and coupons. Beware of falling into the trap of always having some kind of sale on. You run the risk of customers delaying purchases until your next sale. Use discounts and vouchers judiciously and when you do offer them, make sure the deals are decent ones.
Before holding a sale, benchmark your prices against similar products online so that you don't look too expensive or too cheap (which can give the impression of being inferior or shoddy).
Copyright 2020. Article was made possible by site supporter Jeremy Bowler