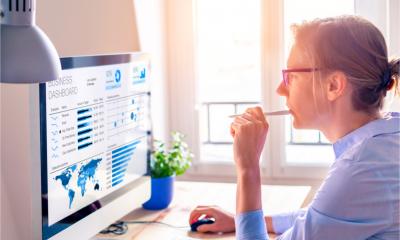 Analytics is the practice of analysing data – usually in the form of statistics and graphs. Modern digital programs are able to record data in real time in order to give accurate up-to-the-minute reports. In business, this data can be useful for making more informed decisions on how to improve and automate processes. For instance, financial analytics can be used to help cut costs as well as automating processes such as accounting.
Marketing is an area of business in which analytics can be particularly useful. Analytics tools are often able to record vital data that can be used to determine the success of a marketing campaign. Below are just a few areas of marketing that can benefit from analytics – and how you can gather the information.
Web design
Website analytics can be used to analyse a variety of useful stats related to your website. These include:
Who is visiting your website (including the URL they came from, the device they used, the time they visited and possibly even their gender and age).
The popularity of specific pages (seeing which pages are most popular could enable you to then optimise these pages to help generate leads).
The time spent on your website (some analytics tools allow you to record the 'dwell time' of individual visitors. This can then be used to trigger pop-ups after a certain amount of time).
The popularity of CTA buttons (using tricks like A/B testing you can measure which buttons are most effective at getting people to click on them).
Google Analytics is the most basic and popular website analytics tool. However, there are more in-depth paid tools that you can invest in to get more detailed analytics including heat mapping your website to work out the most popular areas of your website and even tracing the journeys of individual visitors. This can all be used to help put CTA buttons in the right place, trigger pop-ups and highlight information in certain places in order to convert more visitors into leads.
Not every visitor will want to share their data so it's important to trigger a pop-up asking for permission to accept cookies. Allowing recurring users to create an account could allow you to give them a more personalised experience when they visit your website. By analysing their user data, you may be able to provide personalised adverts and create shortcuts when checking out.
Blogging/vlogging
Blogging and vlogging can be a way of creating extra content for your business that can help generate new leads. By using analytics, you can work out which content is most popular so that you can create more content like this. Many people use Google analytics when blogging, while YouTube has its own system for measuring engagement with videos for those starting a business vlog. More elaborate tools may provide more in-depth metrics such as how long readers are spending engaging with your blog posts, and which links they might be clicking on.
SEO
SEO stands for 'search engine optimisation' and involves using a variety of strategies to help boost your search engine rankings. When launching an SEO campaign, analytics can be very handy for helping you to get results. There are a number of paid analytics tools out there such as SEMrush that can help you to work out which keywords you should be targeting on your website – including which keywords are being used by competitors. Free tools like Google Analytics, Google Trends and Bing Webmaster tools can also be useful for measuring traffic related to specific search terms.
PPC advertising
PPC (Pay-per-click) advertising is the most common form of advertising on the web. When launching an advertising campaign, you want to be sure it will be effective. Analytics can also come in handy for measuring who is clicking on your ads, what search terms they use and their eventual journey after clicking on your ad.
PPC platforms such as Google Ads and Bing Ads often have their own analytics tools for helping you to measure these metrics. Many companies will launch two campaigns at a time on each platform and then use metrics to compare the success of each one to work out which is more effective.
Social media marketing
Social media has become another major marketing platform for businesses. When building a social media presence, analytics can also be used to tell you which content is getting the most engagements as well as helping you to identify the times when your followers are most active on social media. When using features such as Facebook's post and page promotion feature, analytics can also be used to help determine the success of your campaign (by seeing which campaigns are most successful, you can try to create more campaigns like these.
Telesales
Analytics can even be used in telesales. The rise of VoIP phone systems has made it easier to digitally track call times, measure leads and work out who to call next. Specialist call centre dashboard software, like that provided by Whatagraph, offers a main metrics overview. Such software could help you to improve your telesales strategy by measuring which calls are successful, so that you can then create more phone calls like these ones.
Email marketing
Analytics can also be used when email marketing. When sending out mass emails, bulk mailing services can allow you to measure metrics such as how many people have clicked on your email and whether they clicked on a link within the email. By seeing which emails perform well and which don't, you can try to create more emails in a similar style to your successful ones.
In the case of mailing lists, analytics can also be used to help work out who is signing up and how they are signing up, helping you to build better strategies for attracting subscribers. You can also use analytics to see how individual subscribers are reacting to specific content, possibly allowing you to create personalised email content catered to these subscribers.
Copyright 2020. Article made possible by site supporter Jeremy Bowler