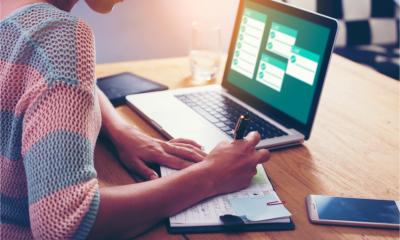 2020 saw the world change dramatically so it will come as no surprise that this resulted in priorities for 2021 changing too. This is certainly true for CIOs and IT managers who were heavily relied upon during the pandemic to keep people connected, to make sure that employees can still do their jobs, and to keep businesses running as smoothly as possible. This hasn't been an easy task as their jobs have been disrupted too. Managing the tech for a business when everyone is working remotely has proved challenging. In addition, they have had to organise and manage the shift to remote working in the face of increased cyber security risks.
While the new year has already begun, the pandemic is far from over. As CIOs set out their priorities for 2021, they must be prepared for further challenges and unprecedented situations. However, with this responsibility and challenge comes a huge opportunity for those working in IT to step up and play an even more significant role in transforming and future-proofing their business for the new normal. So, what are the top priorities for CIOs in 2021 and how have they changed from last year?
Strategic IT
Like most other industries, planning a strategy and being prepared for the unexpected will be imperative this year. Whilst many of last year's plans and goals were either moved, cancelled, or changed, it's likely that this year's focus will be to adapt to new normal so businesses can cope with anything thrown at them. The COVID-19 pandemic changed the world almost overnight and while you need to prepare for the new normal, you also need to prepare for the unexpected and for the world to change again.
Cybersecurity
Cybersecurity has always been important but with people now working from home, it is now essential that you manage this risk. According to research, there has been a 600% increase in reported phishing emails since the end of February. This means that employees' cyber security awareness must be increased. They need to know what to do in the event of an attack and how to avoid one in the first place.
78% of remote workers using personal devices for work during the initial lockdown last year reported that they had received phishing emails to a work or personal inbox. Even more worryingly, 68% said they had clicked a link or downloaded an attachment from the phishing email on their personal device.
Cybersecurity is a whole new ball game. With many more people working remotely, and many on their own personal devices, this is something that IT managers need to seriously consider and find a way to control.
Digital customer experience
Customers are relying on the digital experience more than ever. If your business wants to survive the pandemic and continue operating during the lockdown, then digital customers' experience will be more important than ever before. For CIOs, this means implementing more intelligent CRM systems, social media management software, and customer feedback management tools.
Align IT priorities with business goals
While IT priorities should always be aligned with business goals, this matters more than ever this year. Businesses are relying on IT to get them through the pandemic, to keep them connected to customers, and to continue to conduct business. Your IT priorities must be aligned with these aims. It is likely that your business goals have changed in the face of the pandemic, so IT managers and company managers must work closely together to ensure they get through this year and come out the other side.
Digital transformation efforts
Digital transformation has been on the agenda for a while but now's the time to accelerate those efforts. While businesses must address the crisis-related aspects of business they should not lose focus on the longer-term. As we adapt to a new normal, CIOs need to look at this as a permanent change rather than a temporary one. It's likely things will never fully return to the way they were before. Customers will have different wants, needs and expectations as will employees. Remote working is here to stay. That said, some people may eventually return to the office, so this needs to be accounted for in your plans for the future.
In summary
CIOs must use the new year to pause and take stock of their progress. They may need to re-align business priorities for the year ahead. CIOs will have their work cut out for them, but they will play a critical role alongside business decision-makers in steering the business into the new year. The way they handle the challenges business will face in the year ahead could make or break the business in this new norm.
Copyright 2021. This article was made possible by site supporter Jeremy Bowler.