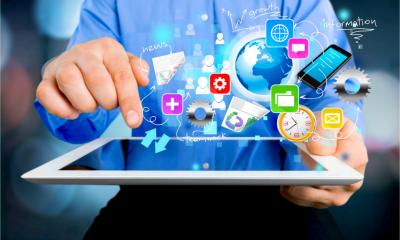 Digital marketing offers several advantages to businesses. To get the most from your digital campaigns, you need to leverage the power of tools.
Digital marketing tools can be of great assistance to marketers. Since, the average spend on digital marketing is increasing every year, most marketers have a healthy budget to amplify their marketing strategies.
Marketing automation is the best way to improve the productivity of your marketing team. For this reason many companies are investing in digital marketing tools to boost their marketing ROI.
Here are the top five digital marketing tools your team needs in 2021 and ahead:

Finteza is an advanced website and app analytics platform that offers funnel analysis, audience analysis, powerful page analytics, and traffic source analysis. Finteza is available for WordPress, Drupal, Joomla, PrestaShop, Shopware, and several other content management systems (CMS).
Top features
Finteza supports around 50 CMS.
It comes with a unique feature where you can check the "mouse hover" analytics, which means you can see the number of users who hover on the button but do not click.
Finteza lets you identify up to 12 types of bad traffic, including bot traffic.
You can analyse the audience using different parameters, including source, UTM parameters, countries, and events.
You can try Finteza for one month for free followed by a minimum fee of $12.50 per 50k users.
Price
Finteza costs $25 per month for up to 100k unique users. You can also purchase the add-on which gives you access to analytics tools like ad-block bypass, event-based retargeting, integration with over 50 CMS, and SDK support. The add-on costs an additional $4 per month.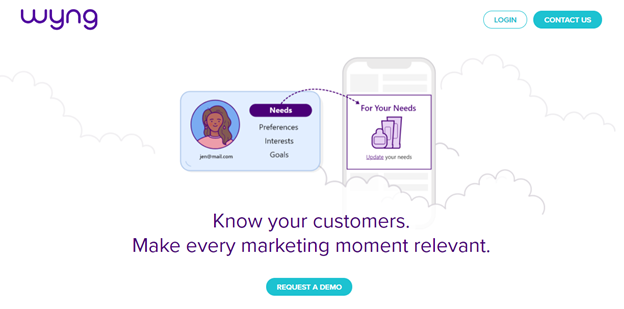 Wyng is a platform that enables brands to engage with and collect permission-based information from customers. You can ask customers for their personal information and permissions to display recommendations and send the best offers to them. Wyng is trusted by well-known brands including Unilever, Sony, Nestle, Disney, Loreal, and Delta.
Top features
With tons of built-in customisation templates such as quizzes, questionnaires, and polls, you can easily create beautiful campaigns for your website, landing pages, and apps.
Customer data is secure with Wyng - it is compliant with CCPA, GDPR, and SOC guidelines.
Wyng allows users to integrate with tons of apps, including Salesforce, Oracle, Gigya, and Mailchimp.
With "Form Builder", you can easily create mobile-optimised forms with WYSIWYG editor and multi-language support.
Price
Not provided by the vendor.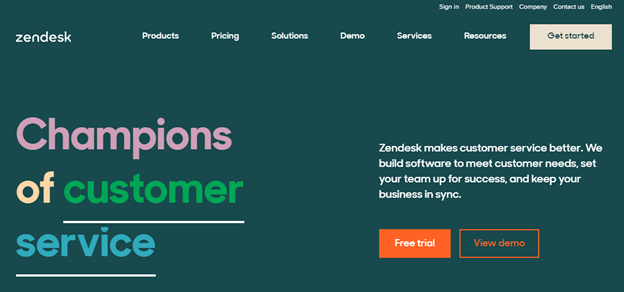 Zendesk is one of the best software options for customer service and CRM. Big brands like Mailchimp, Uber, Siemens, Khan Academy, and Tesco use Zendesk to offer excellent customer service. Whether you're a start up, small to medium businesses, or an enterprise, Zendesk provides services to all.
Top Features
With advanced AI-bots, you can send customised and automated messages to customers.
You can provide support to customers from anywhere via messaging, social, email, live chat, and voice.
The Zendesk Marketplace offers thousands of apps and integrations including Shopify, Chattermill, GetResponse, and ActiveCampaign.
It offers detailed analytics and reports to improve customer experience where you can see the support tickets data including status.
Price
Zendesk offers three pricing plans:
Suite Team: $49 per month (voice, email, SMS, and live chat support)
Suite Growth: $79 per month (up to 100 AI-automated answers)
Suite Professional: $99 per month (up to 500 AI-automated answers)

Vimeo is the world's best all-in-one video marketing platform. It helps you create, host, promote, and monetise the videos. Whether you're a professional, small business or an enterprise marketing team, Vimeo is the software for all your needs.
Top Features
Vimeo provides thousands of beautiful templates for different categories, such as education, corporate, health, fashion, sports, and ecommerce.
You can perform HD quality live-streaming to your viewers that can be shared on Facebook, LinkedIn, and YouTube.
Vimeo provides a "Screen Recorder" feature that you can use to record your screen (with the webcam) and share with team members to boost your team's productivity.
With the "Video Marketing" feature, you can easily promote your videos anywhere via an embed code. You can even publish videos on social media platforms natively.
Price
Vimeo offers four pricing plans:
Plus: $7 per month (5GB per week)
Pro: $20 per month (20GB per week)
Business: $50 per month (unlimited space and marketing software integration like Hubspot)
Premium: $75 per month (add brand logo and live streaming of up to 1080p)
Vimeo allows users to try any of the above plans for free for 30 days.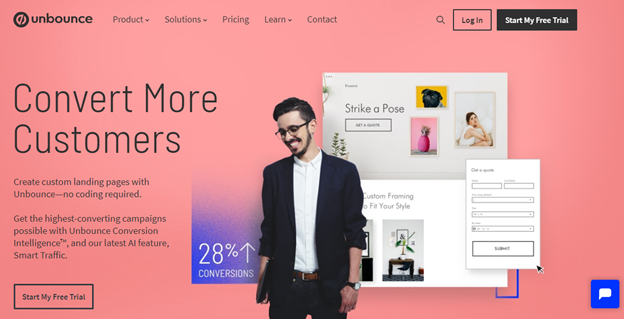 Unbounce is a drag and drop landing page builder that you can use to create beautiful website landing pages, PPC campaigns, social media, and email marketing. Over 15,000 brands, including Helix, Zola, and Campaign Monitor use Unbounce to create landing pages that convert.
Top Features
Unbounce comes with over 100 pre-built customisable, SEO-friendly templates that have been optimised for speed.
It provides "Popups and Sticky Bars" to increase conversions that you can add to your website to present relevant offers and discounts to visitors.
By analysing visitor behaviour and attributes, Unbounce's AI-powered "Smart Traffic" redirects users to the most relevant variant of the landing page.
It provides a WordPress plugin that you can install to publish landing pages directly from the dashboard.
Price
Unbounce offers four pricing plans:
Launch: $80 per month (with up to 20k visitors, 500 conversions, and one domain)
Optimise: $120 per month (with up to 30k visitors, 1,000 conversions, and three domains)
Accelerate: $200 per month (with up to 40k visitors, 2,000 conversions, and seven domains)
Scale: $300 per month (with up to 50k visitors, 3,000 conversions, and 15 domains)
Unbounce also offers a 14-day trial period to test the tool.
Conclusion
Digital marketing is not easy. You need the best tools in your armoury to improve the ROI of your digital marketing campaigns. Using a combination of the tools above you can generate the maximum number of leads in less time and offer the best experience to the customers.