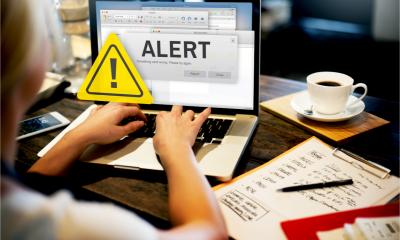 Despite many businesses suffering as a result of the pandemic, this hasn't stopped cybercriminals from targeting businesses. In fact, cybercrime against businesses has been on the rise - fraudsters have found all kinds of new ways to exploit companies and their customers. Below are just some of the newest cyberthreats to be wary of (and how you can avoid falling victim).
Fake government emails
Many fraudsters have been sending out emails posing as government announcements (including fake grants and tax rebates). Some of these emails look very genuine - they may contain HMRC logos and even appear to come from legitimate sender addresses. Such emails often contain hyperlinks to fake websites that may include viruses or forms that aim to extort sensitive information.
There are a few ways to spot a fake government email. Misspellings and bad grammar are often tell-tale signs. If the email is very brief and the tone is urgent it could also be a sign that it is most likely fake. You can find a few examples of fake government emails here at the GOV.UK website. It could also be worth logging directly into HMRC to see if you have any similar messages (especially when it comes to emails about tax refunds).
False advice and news
Cybercriminals have been posing as banks, medical providers and suppliers, spreading fake advice and news in the hope of similarly conning businesses out of money. Such fraudsters may ask for details via email or try to get you to visit a malicious website.
If a supplier you use is asking for money or sensitive information via email, check their sender address and consider contacting them via phone first to confirm that the email is genuine. Be wary of emails that have an urgent or fear-inducing tone - this could be a trick for getting money or private information out of you quickly.
Malicious QR codes
The rise of QR codes has unfortunately led to cybercriminals taking advantage of these. Fraudsters have been creating flyers and business cards posing as real businesses while using QR codes leading to malicious websites. There have even been malicious online tools built for creating QR codes that actually lead to infected sites exploiting business and customers.
When researching how to make a QR code, only use trusted sites and apps. When scanning QR codes, consider downloading a secure QR scanner app rather than using your phone camera - such apps can scan the code before you open it to check that it doesn't lead to an infected website.
Fraudulent charity fundraising
Throughout the pandemic, cybercriminals have also been sending emails to businesses posing as charities. These fake charities have been extorting money from businesses by claiming that the money will be donated to a good cause (such as money for those made jobless or to support businesses that have been forced to close due to the pandemic).
It's worth always researching charities online to see if they are legitimate. A real charity will have to be registered and you can check this online. Alternatively, instead of clicking on hyperlinks in emails, consider visiting charity sites directly to donate (some cybercriminals may pose as legitimate charities and visiting the charity site directly can avoid you visiting a fake site).
Copyright 2021. This article was made possible by Jeremy Bowler.