According to recent research, public spending on SaaS software is set to rise by $500 billion by 2023.
Many of these applications will grow with your business, and others will handle much of the technical side, so you do not have to.
Sure, you could hire full-time staff to handle every aspect of your business operations, but that is going to be expensive and time-consuming, especially if you want to grow quickly.
Instead, look at Software as a Service (SaaS) software as an affordable way to improve productivity, streamline workflows, and increase revenue without taking on sizeable overheads.                                    
Top eight SaaS options for growing businesses
With so many SaaS options on the market today, it can be difficult to keep track of them.
However, if you're looking to grow your business, software designed specifically for that purpose can really come in handy, especially when it offers solutions to common business problems that are often overlooked by other software.
This market segment has been growing steadily for several years and shows no signs of slowing down.
To make your life easier, we have compiled a list of top eight SaaS options that will help you grow your business and scale new heights.
Let's check them out!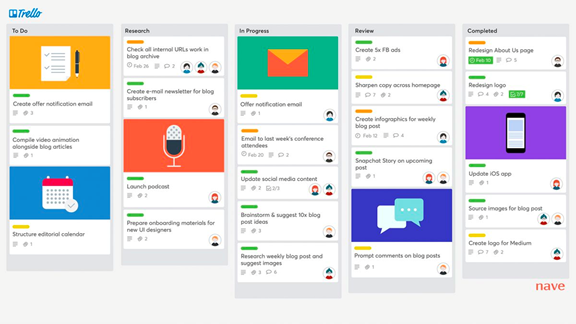 The first thing to know about Trello is that it has been praised by users and critics alike. Its free version offers unlimited storage space, and you can export projects or data in a variety of formats.
Another excellent aspect of Trello is its project templates, which make it easy to get started using different kinds of software with premade ideas on how to use those tools. For example, if you're starting an IT consulting business, you could use one of Trello's IT project templates as a place to store all your work documents and track due dates and milestones.
Project management isn't just for businesses — even hobbyists can benefit from knowing how to organise their time and tasks. From photo editing to writing fiction, being able to break down your goals into manageable steps will help you achieve them more efficiently. 
Pricing
Trello is free (up to a certain point) and has three levels of paid accounts; each level adds new features to your account. The Standard package starts at $5 per month. The Premium plan starts at $10 per month and the Enterprise plan is available at $17.50 per month. The basic features are available on all accounts, such as task lists, comment boards, and checklists.
However, at higher levels you can add things like attachment storage, extra integrations (like Slack or Google Drive), and more collaborators.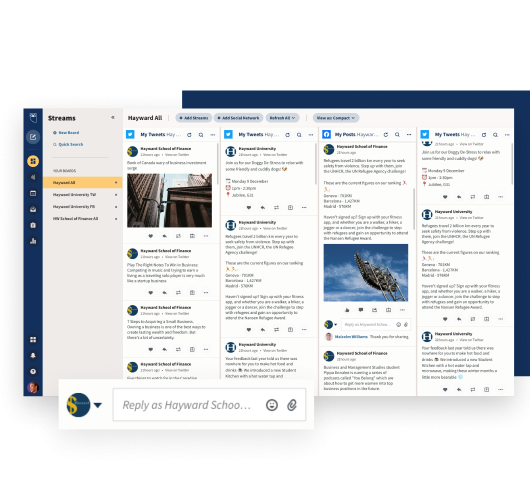 This tool helps you manage multiple social media accounts and schedule messages across multiple platforms. Using a smart dashboard, you can check what's trending and engage with your audience.
With Hootsuite's paid plans, you can gain insights into your posts' analytics, track individual users, or create reports to provide them with information about their brand presence. You also get access to more robust marketing features, such as monitoring advertising campaigns, creating lead capture forms and setting up goals on social channels to target specific interactions. Many users rave about Hootsuite's customer service team and its helpful tutorial videos that take users through key features.
Pricing
Hootsuite plans start at $9 per month and go up to $499 per month. The pricing is based on your company size (number of employees) and what you need out of Hootsuite. When you sign up, you'll be asked to take a quick assessment test so that Hootsuite can recommend a plan specifically for your business needs.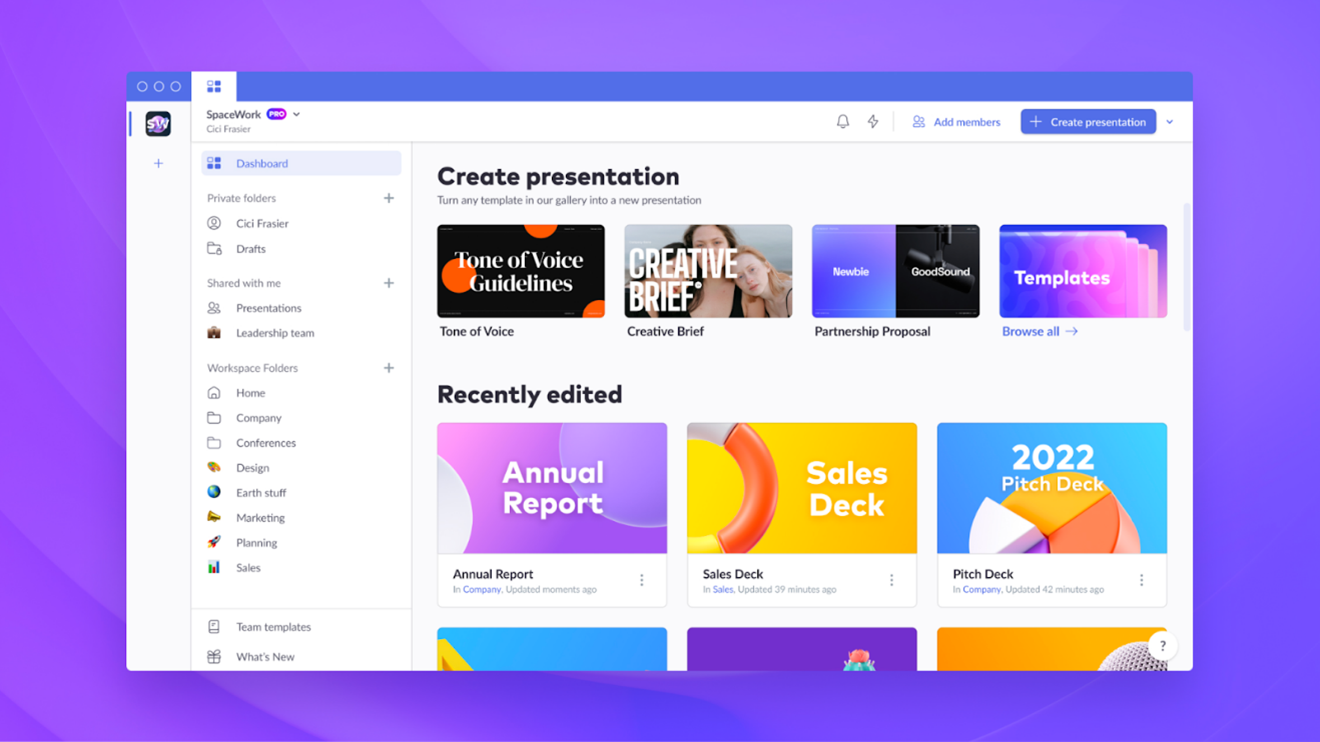 Ditch your old-school slide deck in favour of Pitch, an online slideshow maker. This software generates professional-looking pitch decks with minimal effort on your part.
It's a great creative software tool for anyone working on a pitch deck: start with a template, customise it with text and charts, tweak each slide as needed, and hit done. All you have to do is add photos and video if you want to give your pitch presentation extra flair. Pitch works well in PowerPoint if you want to further customise any aspect of your deck - and it also integrates seamlessly with Google Docs.
Note: Google Docs integration is only available if both platforms are connected to Google Drive.
Pricing
The Pitch tool has three pricing plans. The plan names are Starter (Free), Pro ($8 per month) and Enterprise (Available for custom quote). Each of these plans offer different features including team collaboration, more storage and professional support. For example, with Enterprise you get unlimited features while Starter offers limited features. 

Wayleadr is a unique SaaS software that lets parking lot owners and managers control their car park with an Android app. The system uses a network of sensors to count cars, track drivers and measure speeds, giving you complete insight into your parking operation. It also integrates with Google Maps and GPS units so users can get directions to specific locations within a lot.
Wayleadr helps you set and enforce company parking policies with temporary permissions based on day of week and time of day. You can achieve cost-saving compliance with parking charge management functionalities. It extensively customises messages, email templates, signage, and text to display. The tool also consistently deploys across multiple sites quickly, simply by designating your desired number of zones.
Pricing
Wayleadr offers three pricing plans based on features and target markets: Bronze ($4 per month per spot), Gold ($8 per month per spot) and Enterprise (contact sales for custom quote).
The Bronze and Gold Plan gives you access to many of Wayleadr's core features, including Google Maps integration, clickable call to action images, and address updating via spreadsheets. For more advanced features like A/B testing and real-time tracking analytics, check out Wayleadr's Enterprise Plan. 

Datadome is a fraud management SaaS tool that helps online businesses prevent and manage fraud. The software combines business intelligence with Machine Learning (ML) to create a real-time, big data view of online transactions, enabling you to take targeted action against fraudsters based on their activity. Since Datadome uses a predictive analytics model, it gets smarter as your business grows.
Some of its key features include: a simplified workflow that allows users to make decisions more quickly, one-click access to all related transaction data, customer intelligence reports, and interactive dashboards and charts.
Datadome protects you from two types of credit card fraud - it can help prevent bot-driven carding and card cracking. Carding occurs when a criminal purchases goods or services using stolen credit card information obtained through hacking or phishing scams. Card cracking involves capturing credit card details during an online purchase then reusing them at another site in an attempt to defraud merchants.
Pricing
Datadome offers three pricing plans. The Business plan is available at $2,990 per month. The Corporate plan is available at $5,990 per month. You can contact the Datadome sales team to get a custom quote under the Enterprise plan.

Social media management is tricky, but with a tool like Buffer, it's not as complicated. To use Buffer, you'll need to create accounts on Twitter and Facebook. Then you can connect these accounts so that whenever you post an update on one of your social media profiles, that update is also posted to your other profile.
These tools allow you to manage your online presence more easily by letting you schedule posts in advance. This feature also makes social media more manageable during busy times - like Christmas! No holiday work overload here. You can add hashtags automatically and share multimedia content such as photos or YouTube videos to promote brand awareness and customer engagement.
Pricing
With its easy-to-use interface, Buffer lets you work smarter by saving time while still managing multiple accounts. However, it does come with a price tag - $5 per month for individuals or $100 per month for teams of up to five users (which isn't bad when you consider how much of your time you could save!). There are also additional plans if you want more features like analytics tracking or collaborative editing tools. 

Zapier is a business automation tool. It's designed to make it easy to connect apps and data sources so that you can automate tasks. What makes Zapier stand out from similar products is its high level of integration - Zapier currently integrates with over 750 web services, including many of its competitors (though not all). Some of our favourite integrations include Gmail, Slack, Salesforce, Shopify, Dropbox and more.
Pricing
Zapier offers multiple pricing plans. These include Free (Limited to 100 tasks and 10 applications) Starter: $20/month ($16/month with annual plan) Professional: $50/month ($40/month with annual plan) Team: $200/month and Company (pricing details available on request). What makes Zapier appealing is that it's very easy to get started. 

SurveyMonkey is one of the best SaaS tools that businesses use to increase their sales, gather insights into customer satisfaction, develop loyalty with existing customers, and learn about areas for improvement in their business. The service enables users to create surveys and survey invitations via email.
It also allows them to customise answer formats (checkbox, rating scale etc.), share results privately or publicly, track responses in real time and follow up based on responses received from your customers. And thanks to its integration features with Google Drive and QuickBooks it makes setting up new SaaS projects simpler than ever before. The best part is you can try SurveyMonkey before you buy it!
Pricing
No matter how simple your needs are, SurveyMonkey has a plan to meet them. From $2 a month (plus an additional $0.50 per survey response) to $400/month, they've got something that fits into any budget. And don't forget - their free plan allows you to send up to ten surveys and create five new ones each month - enough for both of us!
Conclusion 
There are many advantages of using SaaS tools for your business. It is cheaper than other software. It gives better customer service and multiple people in different places can use it. As you grow your business, you will need more efficient tools to keep track of how many times each feature was used or how much money was made from each page on your website. With most of these programs you can do both of those things right within the program which makes managing your growing business easier and more profitable!
Copyright 2022. Article was made possible by site supporter SKALE.