Choosing a B2B ecommerce platform can be rather daunting. This is because so many are available, each with a bewildering array of features.
To help you decide, we will tell why your business needs an online presence and which features you need to consider when looking for a platform. Finally, we will present six of the most popular B2B ecommerce platforms currently available to help get your business get online fast.
Why is an online presence so important?
Every day, life is becoming increasingly digital. Advances in technology are changing the way we live and how we do business. In fact, statistics published by software giant Salesforce reveal that 48% of B2B businesses are already selling products online, a figure is estimated to hit a staggering 88% by 2025.
B2C customers demand an excellent online experience, and that is spilling over into the B2B market. In fact, most customers – whether in B2C or B2B – are generally willing to pay extra to ensure they get it. That mentality is leading to companies competing based on customer experience.
So, what are the implications for your business? Well, given that a growing number of companies are showing an increased preference for conducting business online, your business must have a robust online presence. To achieve this, it is recommended to invest in a proprietary B2B ecommerce platform.
B2B ecommerce platform features to consider
There are many B2B-specific software platforms available. Unfortunately, not all are created equal. Therefore, you need to think carefully when deciding which is best for your business and which offer the features you need.
In a nutshell, any respectable B2B ecommerce platform should include features allowing you to:
automate tasks to help streamline your business
capture good quality leads
boost sales
Choosing the wrong platform could seriously harm your business: slow and erratic website performance, lack of compatibility with your existing business processes and systems, etc. To avoid these pitfalls, you should only consider platforms offering the following features:
Internal and external user management - The platform must be capable of accommodating the needs of different user types. Users could be within your business or your customers' organisation. These different users might need functions like marketing, management, accounts, purchasing, shipping, etc. 

Your chosen platform needs to be capable of granting varying levels of permission and access to individuals who need to use it.
Hyper-personalisation capabilities - Even the most basic B2B ecommerce website must include some basics like personalised landing pages, promotional content, and campaigns. Ideally, you want the facility to create different websites tailored to specific verticals and geographical areas allowing you to target specific audiences and offer them an outstanding customer experience.

Furthermore, different customer groups are likely to have different purchasing habits, so your platform should allow you to build self-service portals with personalised information such as product literature and price lists tailored to the needs of each of your customers.
Pricing and ordering features - Unlike B2C customers, B2B buyers typically negotiate orders with suppliers. What's more, they often have precise requirements for pricing, payments terms, ordering, invoicing, and shipping. Therefore, your platform may need to accommodate shopping carts, requests for quotation (RFQ) and order negotiation type workflows.
Customisation options - No two businesses are alike, meaning you need a  platform that can be tailored  by providing backend access for digital consultants or developers making modifications possible.
Business automation functions - The platform should ideally allow custom workflows for order processing to improve customer experience and eliminate costly manual data entry errors. This should include centralised quotations, contract management and term of sale negotiation.
Integration with other software systems - Being able to easily integrate with your other systems such as procurement, ERP, PIM, CRM, and 3PL will help streamline, manage and automate many of your business processes. Furthermore, a robust API will help future integrations.
Responsiveness - Your platform needs to be accessible to all who need to use it (for example, internal staff or external customers), regardless of where they are located or the device they are using.
Scale as your business grows - It must be possible to adapt and scale the platform with the growth of your business. Look for the ability to easily add more websites, products, integrations, etc. Equally important is its ability to handle increasing web traffic.
Six of the most popular B2B ecommerce platforms
We will now discuss six of the most popular B2B ecommerce platforms, starting with a table comparing the features of each. Then we give you a more detailed overview of them individually.
 

Framework

Type

Customisation Features

Base

Main Pros

Main Cons

Open-source

Good pricing and B2B workflow engines
Report dashboards

Cloud
Web-based
On-premises

Great workflow and pricing engines
Out-of-the-box B2B functionality
API for integrations

Smaller B2Bs may not need all features

Open-source

Multisite and customer segmentation
Flexible analytics

Cloud
Web-based
On-premises

API for integrations
Good marketing and multichannel capability
Excellent support

Limited B2B functionality
Integrations and plugins make it an expensive option

Proprietary

Ability to work with multiple selling modules
Great mobile & customer experience

Enterprise and B2B related features like multisite support, inventory management, order fulfilment, etc.

Expensive for smaller businesses with limited budgets

Proprietary

Plenty of customisation options
Wide range of third-party integrations

Out-of-the-box B2B functionality
Excellent support

Dated interfaces
Upgrades are expensive

Proprietary

Robust omnichannel features for multiple brands

Integral content delivery network
Extensive order management
Robust POS features

Lack of features for automation and reporting

Proprietary

Large ecosystem of integrators
Multichannel capability
Great customer experience

Powerful workflows.
Great order and inventory management
Great frontend experiences

Additional products to get CRM and marketing push up the price
Please note that the platforms are not listed in any order of preference.
1. OROCommerce


(Logo source)
OROCommerce is an open-source B2B ecommerce solution, meaning it is highly customisable to suit the individual requirements of your business. Furthermore, it can integrate easily with CRM and other systems, and multiple selling models like B2B2B or D2C can be accommodated.
Click here to go to the platform website.
2. Magento Commerce


(Logo source)
Adobe's Magento Commerce was designed predominantly for B2C, but a range of extensions and add-ons tailor it for use in some B2B applications. However, the cost of adding extensions and add-ons can make this an expensive option.
Click here to go to the platform website.
3. SAP Commerce Cloud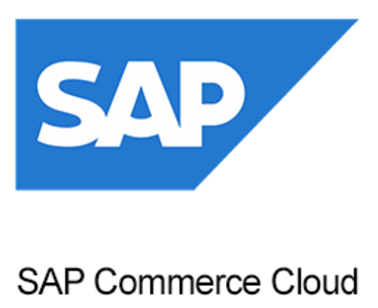 (Logo source)
SAP's Commerce Cloud offers excellent flexibility, integrating seamlessly with your and your clients' other SAP ecosystems. It also has a broad range of landing page creation and multimedia features, meaning you can deliver highly personalised customer experiences.
Click here to go to the platform website.
4. B2B Commerce Cloud


(Logo source)
B2B Commerce Cloud (known as InsiteCommerce until 2020) mainly offer solutions for industrial B2Bs planning to sell over multiple channels and integrate with existing PIM systems. B2B Commerce Cloud offers strong catalogue management and backend features.
Click here to go to the platform website.
5. Oracle Netsuite SuiteCommerce

Oracle are best known for their database software. However, they also produce the SuiteCommerce B2B ecommerce platform that is perfectly suited to B2B, B2C and D2C businesses that need a website, channel and multi-language solution.
Click here to go to the platform website.
6. Salesforce CommerceCloud


(Logo source)
The key selling point of Salesforce CommerceCloud's platform is its ability to integrate closely with CRM. Other key features include an impressive range of personalisation possibilities, backend workflows, reordering forms and many other things that will help streamline your business.
Click here to go to the platform website.
Conclusion
The online purchasing habits of B2C customers are increasingly appearing in B2B transactions too. Furthermore, industry experts are forecasting sustained future growth for B2B ecommerce. Therefore, it is crucial to have a robust strategy in place now and invest in a platform that will best help you successfully implement it.
Copyright 2022. Featured post made possible by Oro Inc