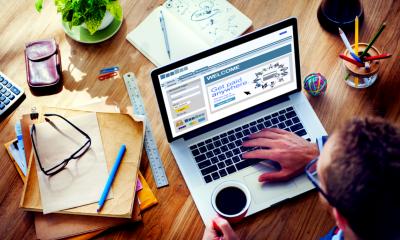 Accounts software is simpler than ever to use. Modern packages run in the cloud, allowing you to sign in and access them anywhere. Many are designed with businesses in mind, meaning you don't need to be an accountant to use them
However, the more advanced features of your accounts software can still be intimidating. Once you've learnt how to perform key tasks, such as raising invoices, creating estimates and running payroll, you may not explore further.
That's a shame, as good accounts software can do far more than just automate regular tasks. It will make it easier to get a handle on your company data, in order to understand your financial performance and future prospects.
Here are eight tips to help you do more with your accounts software:
1. Reassess how you work with your accountant
Accounts software can automate some tasks that are traditionally performed by accountants or bookkeepers. For instance, you can use accounts software to generate your VAT return, rather than asking your accountant to do it.
If you start using accounts software without evaluating how you work with your accountant, you can end up in a situation where you're paying for software and an accountant to do the same tasks.
Accounts software is no replacement for an accountant. But it can help you reduce your accountancy bills, or free up your accountant's time to analyse what the data is telling you about how to improve your business.
2. Get your accounts software mobile app
Accounts software typically includes a mobile app. It's worth installing this on your smart phone, even if you don't think you have a use for it at the moment. You might be surprised at how useful it can be to send a quick invoice or check whether a client has paid while you're out and about.
Cloud accounts software can do a really good job of bringing you closer to your finances, so you have a better chance of understanding what's going on. By having the app on your phone, you have the option to dip into your figures at any moment. And, if there comes a time when you really need mobile access, you'll be ready to go.
3. Let other staff members use your accounts software
You might not want everyone to be able to see every aspect of your financials (especially if your accounts software includes details of people's salaries). However, you can often grant different levels of access to different people.
This increases financial transparency across your business and can reduce how often employees ask you (or your financial team) for accounts information.
For instance, you could allow your marketing team to have direct access to the company's sales figures, let budget holders view and update details of their own spending … and give sales staff the ability to access client details.
4. Test and track with forecasts and budgets
Basic accounts software may not include budgeting and forecasting features, but if available, these are some of the most powerful tools in your planning arsenal.
Forecasts allow you to experiment with different scenarios to see what would happen to your business. Could you cope if you lost an important client? Under what circumstances would it be wise to hire an extra member of staff?
Budgets are vital to planning and controlling spending as your business grows, because they allow you to allocate funds to different areas.
Once you've allocated budgets, your teams can record spending in the accounts software so you can always see if you're on track.
5. See what add-ons and integrations are available
One of the big draws of using online (cloud) accounts software is that it's relatively easy to add functions by connecting other online services or add-ons.
For example, if you sell online you may be able to connect your ecommerce software into your accounts software. That way, all your sales should automatically transfer to your accounts without requiring manual entry.
Often, there are hundreds of add-ons available for a single package. It can be well worth spending a few minutes browsing the most popular, in case you see anything that could make your life easier.
6. Anticipate and address risks earlier
Nobody likes to think about problems their business could face. But forewarned is forearmed - and your accounts software makes it easier to identify small issues before they become big ones.
Cash flow can be problematic, particularly if you're faced with late payments or have tight margins. Accounting software can help you track payments, identify overdue invoices and watch out for any deterioration in how quickly customers are paying. Taking early action can avert a potential cash flow crisis.
You can also use reports within the software to identify longer-term trends, such as declining orders from an important customer, or reduced demand for a key product.
7. Automate expenses
Calling accounts software 'magical' might be stretching it a bit. But there are some really nifty ways it can make things faster and simpler.
Keeping track of expenses is a common problem, especially if you travel for business a lot. Many accounting software packages let you record expenses by snapping a photo of receipts with your smart phone. If not, you should be able to find an add-on that makes this possible.
8. Analyse your sales patterns
You might be surprised at what you don't know about your sales. For instance, do you know who's consistently your best salesperson, at what time of the month most sales occur, or how long it typically takes to seal the deal?
Accounts software gives you powerful reports and dashboards to analyse sales data, helping you understand when things are busy or quiet. You can develop strategies to smooth demand and sell more of what you want, when you want.
You may even be able to identify when repeat purchases tend to occur, what products are bought together, and what offer or discount terms deliver the best results. It's all information that can help you boost your sales.