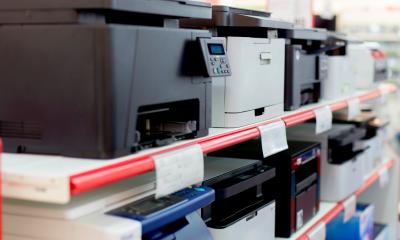 John Sollars, managing director of printer consumables superstore, Stinkyink.com, explains the four key steps to choosing a computer printer for your company
Step one: what does your business need?
Don't consider your printing needs in isolation. Many computer printers also include other functions like scanning or photocopying, so list all your paper-based requirements.
For instance, you might need:
a scanner
black and white printing
colour and photo printing
You should also think about how you use these functions. For example, what sizes of documents do you scan? Do you send faxes consisting of lots of pages?
At this stage, you need to make two key decisions:
Whether you need a standalone printer or a multi-function device. A multi-function device combines printing with other functions, like photocopying and scanning. They're an ideal way to address several needs, and are usually more cost-effective than buying separate pieces of equipment.
Whether you need an inkjet or laser printer. Inkjets squirt ink onto the paper and are generally fine if you print under 1,000 pages a month. Laser printers apply a powder called toner to the page, and are best if you do lots of printing or need to share the printer between several computers.
When calculating how much printing you do, allow for growth – especially if you plan to expand your business. It's better to buy a larger capacity printer and grow into it, rather than struggle with an inadequate machine.
Other questions to ask at this stage include:
Do you need to scan or copy documents consisting of lots of pages? If so, look for a document feeder so you don't have to feed pages in by hand.
Will you be connecting the printer to your computer network? In this case, get a printer with a built-in network connection.
Step two: what can you afford?
Most of what you spend on a computer printer will go on running costs. In general, the cheaper a printer is to buy upfront, the more it will cost to run.
Find a balance between the purchase price and the cost of consumables like print cartridges. Work out what your budget can stretch to, both on the purchase and running costs, to avoid being tempted by cut-price deals or expensive bundles.
Estimate your printing costs as best you can.
If you rarely print in colour, look for printers with high capacity black print cartridges, and small, cheaper colour refills.
Step three: do your research
Having decided what fits your requirements and budget, research manufacturers and models using the internet and create a shortlist of possible printers.
Printer reviews and user comments are easy to find with a search engine. No printer is perfect, but this will make a real difference to how satisfied you are with your choice.
Step four: decide whether to lease or buy
Managed printer systems (MPS) are a relatively recent development in the world of printers. These allow your business to lease its printer(s) rather than buying them outright. This reduces your upfront costs and means you don't have to worry about separate maintenance charges.
Additionally, an MPS supplier will be able to give you data about how you use your printer. This helps you forecast and control your printing costs.
However, MPS deals tend to be tailored towards businesses which print at least 10,000 pages a month. They also usually lock you in to a long contract, only allowing you to buy consumables from one supplier.
If your company doesn't print in these sorts of volumes, you'll probably be better off buying your printer outright.