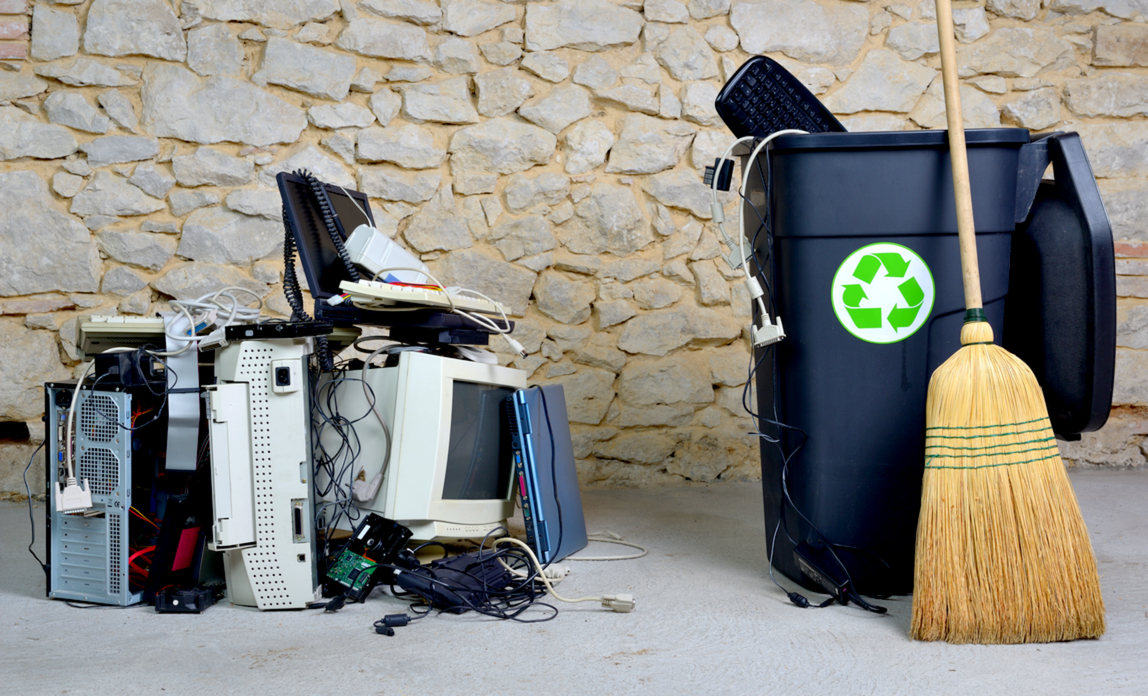 As IT equipment gets replaced, many small firms don't know what to do with their old kit. And fears about valuable information getting into the wrong hands means many businesses hang on to old devices. Our guide explains how to recycle old IT kit safely, responsibly and legally
There are two important issues to consider when you want to offload what's known as "e-waste" - complying with environmental legislation and ensuring that your data is safely disposed of.
But many business owners have no idea what to do with their old electronic waste. According to specialist Business Waste, up to 95% of companies still send their electronic waste to landfill rather than making arrangements for it to be collected, reused or recycled.
In addition, many working computers are being destroyed because of fears over data security, says Mark Hall, commercial director at Business Waste. "Scares over identity theft and corporate crime mean that bosses would rather completely destroy computer goods themselves rather that hand it to a third party to be disposed of correctly."
Thankfully, there's a growing number of electronic waste specialists offering secure data wiping services as well as ensuring disposal meets legal requirements.
Even so, consumer group Which? has suggested that the only way to ensure your data is securely destroyed is to smash your hard drive with a hammer. As a test, it bought eight second-hand hard drives- all supposedly wiped clean - and it was able to access 22,000 deleted files. Thieves also target council tips looking for hard drives full of data.
Meanwhile, millions of pieces of old kit are being generated every year and yet only a fraction is actually recycled. Discarded IT equipment cannot simply be thrown out with the rubbish because they are classed as hazardous waste.
Legislation covering waste electrical and electronic equipment (WEEE) means businesses must deal with old WEEE items separately. And, under the legislation, you may have to prove that these items were disposed of properly.
But before you chuck out your old devicees, you may find they have a bit of life left in them. Thanks to cloud services, many firms are finding that older PCs can be used for another two or three years as they don't need to store and manage as much software and data as they once did.
However, if you still have old kit you need to dispose of, read on:
Manufacturer recycling schemes
Nowadays, many of the leading IT makers have recycling schemes as part of their commitment to the environment - and to satisfy legal obligations. You can return equipment to manufacturers such as Dell, Hewlett Packard, Apple, Lenovo and others. Your equipment will be "de-manufactured" and parts will be recycled and reused. Anything that can't be reused will be disposed of in an environmentally sound way.
Specialist IT recycling companies
You can use the services of a professional IT recycling firm - some are free, others charge a fee. Data security and removal should be part of the service but make sure the firm you choose is reputable. Also, make sure it complies with WEEE legislation and that they can provide details of their Waste Carriers Licence. These are some of the IT recycling specialists in the UK:
Recycling for a good cause
There are many non-profit organisations that collect IT equipment for reuse or for de-manufacture and recycling. Many of these schemes operate in developing countries as well as helping UK community groups.
Before you donate your IT equipment to a charity, it's best to ensure you have securely disposed of all data - not all charity schemes take responsibility for this. Also, ensure the charity has a waste management strategy - if your kit is to be reused overseas, for instance, what happens to it when it eventually becomes obsolete?
There are many organisations that will take your old IT kit for a good cause:
The IT for Charities website lists all the organisations across the UK that take old IT equipment and recycle it for good causes.
Digital Links is a social enterprise offering IT disposal service for UK companies. It refurbishes donated computers for reuse in developing countries. Its service includes collection and certified data erasure.
Mobile phones recycling
Old phones can be recycled in return for cash - some handsets can fetch more than £200! There are many companies offering this service, including Envirofone, Mazuma Mobile, Top Dollar Mobile, Carphone Warehouse's Sellmyphone, Geek Squad and Fonebank. In addition, CompareMyMobile allows you to compare deals on the major mobile recycling websites. Don't forget that today, many mobile phones have as much sensitive data as computers so secure data removal is very important.
Data security
If you are not using a specialist waste firm, you need to be absolutely sure that your data has been permanently deleted - both for your own security and to ensure you comply with GDPR.
One thing's for sure, simply pressing delete does not securely remove your data. Files can be found using file recovery tools or the undelete function. Even formatting a disk may not completely prevent files being recovered by someone that knows what they are doing.
And what about physically destroying the hard drive? It might work but there's always a chance that data could still be recovered from a smashed disk. The safest approach is to use software that will securely wipe the disk. Options include File Shredder and Eraser and Darik's Boot and Nuke. For Macs, Permanent Eraser does the same job.
For the complete belt and braces approach, you might want to delete files and run the relevant software and then get your hammer out.