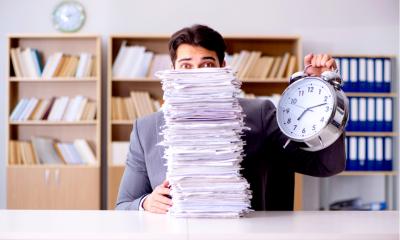 The House of Lords has called for the introduction of Making Tax Digital for VAT to be delayed because of concerns that small businesses are not ready for the new system.
Making Tax Digital for VAT is set to become compulsory for VAT-registered businesses in April 2019. Those affected will have to submit their VAT returns using approved software or digitally-enabled spreadsheets.
However, a new House of Lords report, Making Tax Digital for VAT: Treating Small Businesses Fairly, has concluded that many small businesses are not prepared for the changes.
It has recommended that "the government defers the date for mandating Making Tax Digital for VAT by at least one year, while encouraging businesses to join voluntarily."
The report made the following points:
The evidence ? suggests that HMRC, taxpayers and the software market are unprepared for the implementation of Making Tax Digital for VAT in April 2019;
HMRC has not done enough to communicate with taxpayers or agents to support their preparations to meet their Making Tax Digital obligations;
Although MTD for VAT-compliant software may be available, there has been insufficient time to establish a competitive, accessible and diverse software market;
The costs to businesses of MTD for VAT, both for initial set-up and for subsequent operation, will significantly exceed those used in the government's impact assessment.
These concerns are shared by many business organisations. Anita Monteith, tax manager at accounting body the ICAEW, said: "We support HMRC's ambition to increase the use of digital technology, but we are concerned, as is the committee, that many VAT-registered businesses are not going to be ready for implementation in April 2019.
"Time is running out. MTD for VAT is a major change in tax administration and, with its start date coinciding with Brexit, it is important for businesses, the economy and the UK tax system that it is a success. This is too important to be rushed."
Recent research by ICAEW has revealed that over 40% of businesses about to be affected by Making Tax Digital (MTD) for VAT are not yet aware of it and that a quarter of all businesses are still using a paper-based accounting system.
Simon McVicker, director of policy at freelancer body IPSE, said: "We support digitisation of the tax system, but we are worried about the speed of the implementation. HMRC's initial timetable for Making Tax Digital was way too ambitious and targeted the wrong businesses ? we are concerned that many self-employed businesses simply don't know about the new requirements."
Dave Chaplin, ceo and founder of ContractorCalculator, said: "HMRC has the challenge of educating not just one business, but eventually 5.7m of them to get ready for MTD. They will never manage to educate everyone in time, whatever they do, but at this stage they perhaps haven't got far enough over the line to minimise disruption to business ? The software vendors are of course keen for things to proceed, but the main challenge isn't the software, but the training and operational changes required by every business that is the most challenging aspect."