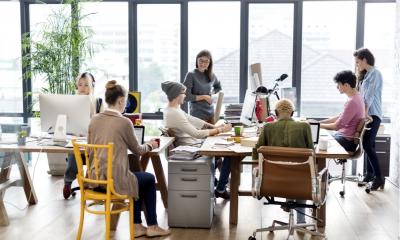 The latest quarterly economic survey by the British Chambers of Commerce has found "protracted weakness" across most indicators of economic health in the final quarter of 2019.
The survey from the British Chambers of Commerce (BCC) - in line with the latest data from the Federation of Small Businesses (FSB) and the CBI - finds continued business pessimism as the UK economy continues to limp along. However, a new government and the prospect of an end to Brexit uncertainty is giving business groups some grounds for hope.
Even so, the latest findings paint a gloomy picture. The BCC quarterly economic survey is the largest of its kind in the UK and a leading indicator of GDP growth. It reveals that the service sector, which accounts for almost 80% of UK economic output, saw all its key indicators worsen compared to Q3 2019.
Indicators for manufacturing and export orders have been negative for two consecutive quarters for the first time in a decade and investment in plant and machinery is at an eight-year low. Cashflow has improved slightly from its lowest level in eight years, but remains "very weak" across both manufacturing and service sectors.
Suren Thiru, BCC head of economics, said: "The fourth quarter was characterised by a broad-based slowdown in the dominant services sector with all key indicators weakening in the quarter, amid sluggish household expenditure and crippling cost pressures."
The findings are also in line with other key economic surveys published at the end of 2019. CBI data shows that private sector business activity has fallen at its fastest pace in ten years across all sectors.
However, there is hope for light at the end of the tunnel. The CBI forecast predicts that UK economic growth is set to improve from 2020 - on the assumption that Brexit uncertainty diminishes and global growth revives. GDP is forecast to grow by 1.2% in 2020 and by 1.8% in 2021.
Meanwhile, the latest Small Business Index from the Federation of Small Businesses has found small business confidence at a low last seen in the midst of the 2011 recession, with 46% of small firms saying they expect their performance to worsen over the coming three months. Pessimism is particularly pronounced in retail, where 66% of small firms expect prospects to worsen next quarter.
However, Craig Beaumont, FSB director of external affairs and advocacy, said: "They say that the night is darkest before the dawn, and small firms will be hoping that the old adage holds true. The incoming government has made some very positive commitments to the small business community - particularly where connectivity, employment costs, business rates and late payments are concerned - it now needs to deliver."
BCC director general Dr Adam Marshall said: "The government must use its newfound majority to take big decisions to stimulate growth. If ministers take action to reduce up-front costs, move key infrastructure projects forward and to help businesses on training, they'll be rewarded with increased investment."
Written by Rachel Miller.