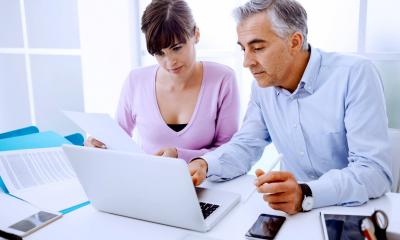 When a new employee joins your business, getting up-to-speed with your IT systems can be one of their biggest challenges. It's important they understand how you use software and cloud services, so they can slot into your company and work effectively
Ben Simpson from IT support company Microbyte explains what you can do to make it easy for new staff to going with company IT.
What should you prepare before a new employee starts?
"Make sure you've covered all the basics before their first day in the business. Set up all the user accounts they need and prepare their computer, as well as any other necessary equipment, like a smart phone.
"As well as their main network user account, don't forget to grant access to any cloud services or other systems you use. As a new employee, it's awkward to have to chase up usernames and passwords in your first few days - it can make you feel unwelcome.
"Make sure your team is well-briefed, too. They should be aware that someone new is joining. Tell key colleagues a bit about the new starter's experience, and where they will sit within your working structure.
"New employees usually have a lot of questions about your IT, so make sure their colleagues are ready and willing to answer them."
How can you evaluate a new employee's IT knowledge?
"At Microbyte, we are great believers in having a trial session. This is where you place a new team member straight into the live working environment and seeing how they react.
"This is a really quick way to identify specific training needs. It also reveals an employee's skills and expertise straight off the bat. As the session continues, you can see where they feel comfortable and which areas may need improvement.
"If you decide to do this, remember that a trial session can be intimidating for a new member of staff. Do everything you can to be welcoming and put them at ease. Give them feedback, as well as paying attention to feedback from customers and other employees."
How can you introduce an employee to your systems and software?
"Often, we'll give a new member of the team a series of tasks to perform. These will require various skill levels, and will incorporate procedures, systems and software that we use on a daily basis.
"If you take this approach, it's a good idea to have a more senior member of staff run through the tasks with the new employee, signing off each once complete.
"Again, the idea is to make sure your new employee is familiar with how things work day to day. If they aren't able to complete these tasks immediately, look to provide appropriate training or assistance.
"Depending on the nature of your business, it may be a good idea to get new employees to deal with customers early on. Even if they're not in a customer-facing role, they may benefit from having an appreciation of how customers interact with your business.
"For instance, they could listen in on customer calls or shadow a member of the sales team to see how your customer database is used in practice."
What documentation is it helpful to provide?
"New employees typically get hit with a barrage of information during their first weeks at a company. Retaining all of this is next to impossible, so make sure they have key information in a written or electronic form.
"They shouldn't go writing down sensitive information like usernames and passwords, obviously. However, it can be really helpful to provide a list of URLs for things like your company intranet, helpdesk, support documentation, commonly used apps, security procedures and so on. Make sure they know who to approach for IT support, too.
"Finally, security can be a big issue, particularly if their job involves handling sensitive data. You might want to get them to sign a copy of your security and data protection policies to confirm they've read them.
"However, while knowing the policies is one thing, understanding how they work in practice is quite another. Consider what training and support each new employee needs in order to maintain your data safety."