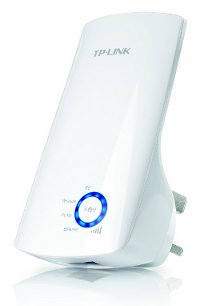 We try to highlight a couple of business tech bargains each week so you can find the best value IT out there. After all, doesn't everyone like a good deal?
If you suffer from poor wireless network reception in parts of your business premises, a cheap way to extend your wireless network is to pick up one of these TP-Link wireless range extenders, currently available from Amazon for just £29.99 all in.
See it now on the Amazon site >>
About this tech bargain
It's easy to extend your wireless network with this tech bargain. All you need to do is plug it directly into a power socket that sits near the edge of your existing wireless network's coverage.
Then you just connect this wireless extender to your main wireless network. In most cases, you just have to press a button on your router, then press a button on the extender.
Once you've done that, the extender will rebroadcast your wireless signal, considerably extending your coverage if you've positioned it well.
This seems like a really good price for a wireless extender that gets good reviews. The next best price we can find it at is £32.99, from Expansys.