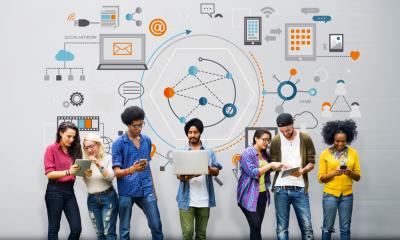 It doesn't matter how big your business is, VoIP has become a must-have technology. Many people had already switched to residential VoIP for private calls, but VoIP has become an important tool for businesses too.
Communication is and has always been the key to a growing and thriving business. VoIP facilitates internal and external communication. It is faster and cheaper than regular business phone systems, will facilitate your phone calls and improve communication with your collaborators.
That said, VoIP needs to be set up and configured by a VoIP provider. It's also likely that your team will need training too so that they can reap the maximum benefits from your VoIP technology.
What is VoIP?
VoIP (Voice over Internet Protocol) is an upgraded telecommunication technology whose principle relies on audio transmission via your IP networks.
Unlike traditional phone lines, VoIP technology only requires an internet connection which means you can be reached anywhere. VoIP and SIP (Session Initiation Protocol) buried traditional phone lines' constraints and imposed themselves as efficient and multifunctional telecommunication tools.
Why set up VOIP in your business?
Setting up VoIP offers several key advantages:
VoIP lowers your communication costs and allows you to make significant savings.
It can be used on multiple devices - computer or smartphone - meaning you can make business calls from anywhere.
You can make local and international phone calls at no extra cost.
It supports remote working.
VoIP is compatible with other key business software. For example, you can integrate VoIP into your CRM software.
Users can make phone calls without needing an actual phone thanks to softphone software.
Choosing a VoIP provider
First things first, you cannot set VoIP up without contracting a VoIP provider. You shouldn't simply contract the first provider you come across. Start by deciding what type of service you are looking for. Do you need a VoIP-only system, a cloud-based solution or unified communication software?
Much will depend on your company's size and needs. Some smaller companies will only need a basic business phone solution while bigger firms might find that the right solution for their business is a centralised communication tool.
Having a clear idea of your actual needs will help you find the best professional VoIP plan. Shop around and compare the different solutions on the market. That way, you can be sure to get the best solution and service for your money.
Another key consideration is the level of security offered by your VoIP provider. Nowadays, providers are aware of the importance of cyber protection; therefore, many offer solutions that prevent eavesdropping, data hacking and data theft by encrypting communications and VoIP vulnerability analysis tools.
Check how reliable and credible your VoIP provider is by carrying out some research. What are the other customers saying online? Are they satisfied?
Do not be swayed by low prices. Saving a few pounds here and there at the expense of your data security or the quality of your VoIP service is a false economy.
Installing the system
First things first, do you have the right equipment? Are your devices compatible with VoIP technology? If not, you will have to replace your old equipment.
How about your PBX system? If you're switching to VoIP, you will need an in-office IP PBX phone system or a hosted PBX system. The only difference is that a regular IP PBX is located on-site giving you full control over your IP PBX. A hosted PBX is accessible only through the internet. A hosted PBX removes some of your control but is cheaper and relieves you of the maintenance as it is located elsewhere.
Once you have chosen your provider and the type of VoIP system you need, it's time for the implementation! The setup process will depend on your provider, but generally speaking they will provide you with detailed onboarding resources that will help you along.
Once everything is set up, all you have to do is
Install your system.
Plug in your devices.
Configure the system.
Configuring the system
Your VoIP providers will supply you with a step-by-step setup instruction to avoid any oversights or missteps. Some providers also include installation services. Don't forget to ask your provider about this option before signing up.
Configuring your system means you will set up:
your phone tree
your voicemail
implement calling schedules
integrate new features
Training your teams
Transition to new technology and systems is never easy. In a way, setting up a VoIP system is like starting over. Your staff will need to be trained so they are operational as soon as possible. Training staff can help avoid misunderstandings that can slow staff down and impact their performance.
Training your staff will allow them to become familiar with the software, learn how to use it, and how to integrate it with other programs and internal systems. Choose a provider that will supply you with an expert who will train your staff on the software during its implementation.
VoIP systems generally include several applications. By anticipating your employees' training needs, you will reduce the amount of time needed to adopt and adapt to the change. It will also reduce the chances of your company's performance being adversely impacted during the transition.
Conclusion
VoIP is rapidly becoming the norm and is replacing traditional telecoms solutions in many businesses. That said, setting up VoIP in your company shouldn't be a snap decision. Such changes need to be carefully considered. Do not rush to sign up with the first provider you come across. Switching to VoIP is a major change for a company and its working methods. It must be done with care in order to minimise the impact on the company and its productivity.
While you must take a cautious approach and ensure you are fully informed of your options when making the switch, one thing you can be sure of is that you will not regret switching to VoIP.
Copyright 2021. Guest article edited by the Donut Blog Team