No matter how detrimental it is to productivity, multitasking is commonplace in business today. Consequently, services that facilitate multitasking are sought after by busy businesses.
Modern business is largely concerned with the processing of data in the most practical, accessible, and secure way. That's where the Azure cloud platform from Microsoft comes in. This cloud computing platform, when supported by thorough management by an Azure cloud architect, is a budget-friendly, trustworthy, and secure solution. PaaS, IaaS, SaaS, and serverless cloud computing formats are designed to help businesses become more competitive and overcome challenges.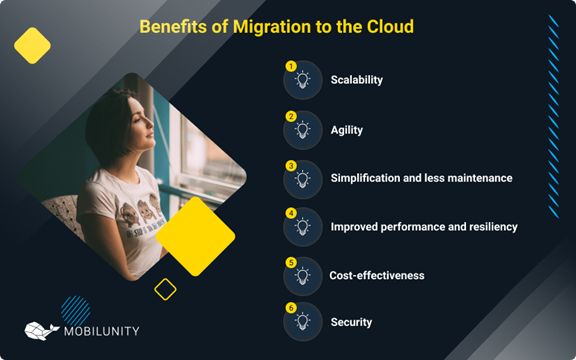 Source: Mobilunity
Let's have a closer look at why businesses and enterprises use Azure.
Benefits of using Azure
Businesses are already familiar with the many benefits of cloud computing. It's possible to become more efficient without draining your budget, thanks to cloud computing. Microsoft Azure is a single unified platform that boosts workload performance thanks to its consistent data centre environment.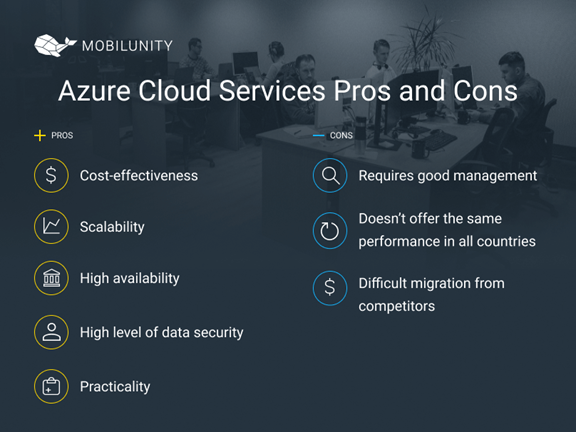 Source: Mobilunity
Azure offers developers a rich collection of cloud services for developing apps and other digital services. Virtual machines, storage services, services for mobile applications, development and PaaS all provide excellent opportunities for developers to solve your tech needs based on the following principles:
Cost-effectiveness
When you use Microsoft Azure you only pay for the services you use. You don't need to spend vast sums on in-house equipment and super-pricey hardware. Azure saves you time and resources running your IT infrastructure. 
Adaptability
Microsoft Azure is incredibly flexible. You are free to scale the computing resources up or down, depending on your needs - a feature that is attractive for any cost-conscious businesses. 
Data protection
The security of cloud services are sometimes questioned. Azure has built a consolidated position in respect of information security: only authorised users can access information and there is no third-party control of data collection and distribution.
Advanced threat analytics alongside threat intelligence tools protect the Azure environment and enable the user to track any unusual activity using real-time threat monitoring features.
Disaster recovery
The Azure Active Directory already offers high levels of uptime, and this is expected to be increased by 99.99% in 2021. In the unlikely scenario that you need downtime recovery, everything will work from the backup area. By being able to rely on an uninterruptible workload you can demonstrate your commitment to meeting your clients' needs.
Must-have skills for an Azure Developer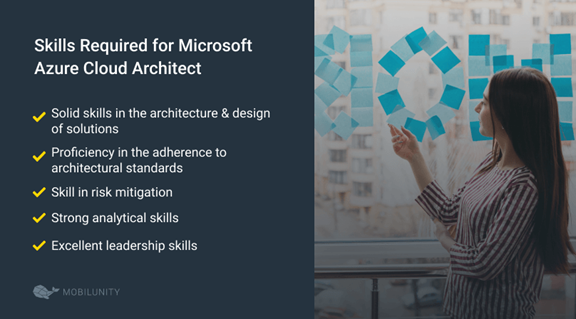 Source: Mobilunity
As we have already mentioned, the Microsoft Azure platform offers a rich environment for app development purposes. It supports a plethora of programming languages and frameworks and operating systems and devices.  If utilised properly, it creates a space for developing highly competitive tech solutions.
To get the most from the Azure platform, you need to work with an Azure cloud architect with the expertise to deliver end-to-end cloud solutions.
Skills in detail

Source: Mobilunity
So, how do you know you have engaged the services of the right person to deliver the full range of benefits that Azure can offer your business? You need to consider the following:
Architect and design skills
Adherence to standards of product architecture
Risk mitigating skills
Analytical skills
Ability to implement new features
Close interaction with a team
Designing the best technological approaches
There are two levels of Azure Certification: Cloud Platform Microsoft Certified Solutions Associate and Cloud Platform and Infrastructure Microsoft Certified Solutions Expert. Obtaining these credentials allows the azure developer to prove the necessary proficiency for the job.
The next consideration for many businesses is pricing. When developers or consultants look through your specifications, they will estimate the cost of your job based on the level of configuration you need. A good developer should help you stay within budget by setting up auto-scaling.
You need to confident that your developer is in control of security matters and is working to minimise potential breaches. Applying the most suitable practices within the Microsoft Azure environment makes it possible to build security into the blueprint of your project.
When checking a potential programmer's resume, you should look for the following words:
SccM
Microsoft Azure
AWS (the more knowledge the developer has of different computing clouds, the better)
GCP
Visual Studio
Angular JS
Bootstrap
jQuery
C#
PowerShell
HTML
Such a skill base will imply that the person has solid programming and cloud service skills and knowledge.
Experience
You Azure specialist should be able to:
Combine Azure IoT Suite, Salesforce, and Raspberry Pi to design and implement IoT systems.
Perform migration from local servers to Microsoft Azure Cloud servers.
Perform Microsoft Certified Solutions
Implement data movement solutions using Azure Data Factory
Estimate which solutions your business needs
Implement end-to-end data solutions
The Microsoft Azure Cloud Platform requires quite complex management. Data migration to the Azure service is also a skilled task. The best way to guarantee a stress-free implementation is employing a talented Azure engineer who possesses the expertise described above.
Five key benefits of hiring an Azure developer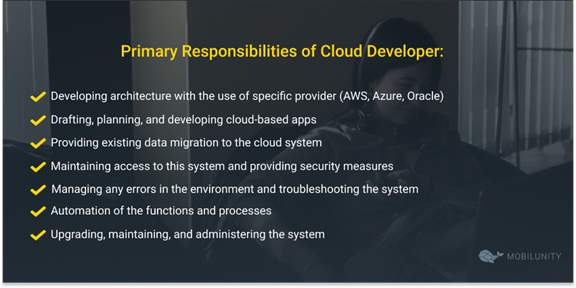 Source: Mobilunity
To ensure that everything works and is updated, developed, and extended as expected, you need to hire an Azure engineer to ensure workflows perform seamlessly. Without the support of an Azure Cloud Architect, Azure developer, or consultant engineer, it will be impossible to achieve a flawless Azure experience.
Your Azure developer will ensure that the following happens:
Development and management of the global data centre network
Evaluation of technologies and components used.
Development of the testing environment for the code
Development and maintenance of web-applications
Exploring and estimating the value of the new Azure public cloud services.
The support of an Azure developer is a significant prerequisite if your business is to thrive in the cloud. It doesn't matter how you do it: you can hire an in-house team of specialists or use an offshore development companies to provide the necessary support. Just make sure that this puzzle piece is not missing from the big picture.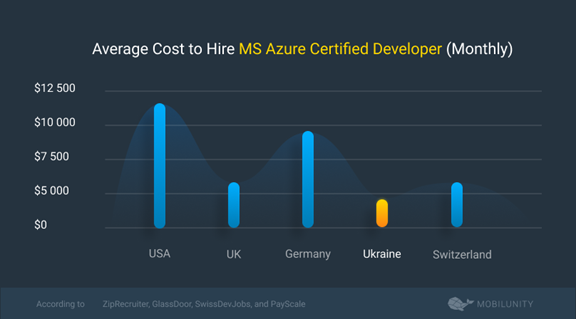 Source: Mobilunity
Conclusion
Cloud computing is no longer the exception to the rule. To succeed in the cloud, you need to utilise the skills and knowledge of specialise cloud engineers. The Microsoft Azure cloud environment can serve your business' tech needs providing it is maintained and managed by qualified Azure cloud architects or developers.
Copyright 2021. Article were made possible by site supporter Anastasia Stefanuk of Mobilunity.