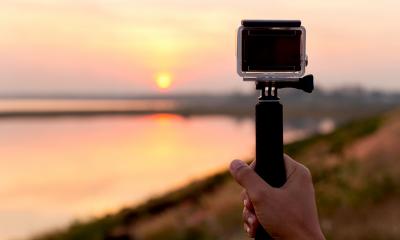 For proof that video remains one of the most important forms of content on the web, look no further than research by networking giant Cisco, which suggests that video will account for 82% of global consumer internet traffic by 2022
Video production was once a very expensive business, but we now live in a very different world that is full of smartphones and miniaturised, rugged action cameras that are capable of recording beautiful, high definition footage. This means anyone can create brilliant promotional videos in no time.
Why create company videos?
Video forms an intrinsic part of modern marketing plans for one very simple reason: people love to watch it.
Place a video on the homepage of your website, and it's likely you'll see bounce rates drop and the average time people spend on your site increase considerably. It's what makes video one of 'stickiest' forms of content on the web.
There's a lot you can do with it, too. Here are five examples of how your business could use video:
Behind the scenes tours. Everyone loves a glimpse at what goes on 'behind the curtain'.
Product demonstration. There's nothing quite like seeing a product in action before making a purchase decision.
Staff interviews. Give your business real personality.
Show potential customers the joy they could experience when receiving your product for the first time.
Who says you have to throw everyone into a stuffy conference room to get your point across?
Camera options and recommendations
Significant advancements in technology have brought powerful, pro-level cameras to the masses with point-and-shoot levels of simplicity.
Modern cameras come in many forms, but for business video, you're best to grab one of the following:
Modern smartphones are capable of recording video in full HD(1080p) and 4K resolutions. Apple's iPhone takes some beating (from around £349).
Action camera. If you work in a high-intensity or sports-based industry, action cameras are the best way to capture breath-taking footage no matter the location, activity or weather. GoPro is still regarded by many to be the go-to creator of action cameras (from around £199).
Typically used by photojournalists and prosumers, digital SLR cameras are inherently flexible thanks to interchangeable lenses and superior low-light performance. Canon continue to make great DSLRs that won't break the bank (from around £289)
Preparing footage for editing
In the past, recording video cost-effectively was challenging, but getting the footage out of the camera and into an editable format was equally as tricky. These days, it's a far easier process.
If you head down the DSLR or action camera route, you'll be working with memory cards, typically of the SD card variety. Some computers will have SD card slots, while others require a USB card reader. Either way, you simply pop in the memory card and copy your video files into a folder.
Once the files are on your computer, you're all set for editing!
For smartphones, the process is usually a little different. Yours may use a memory card, too, but if it doesn't, you can usually connect the phone directly to your computer via USB or use file sharing apps such as Dropbox to transfer your footage. However, the files may not need to leave the device at all - if you opt for an on-device video editing app (such as Apple's iMovie).
Examples of free and low-cost video editing software
Everyone adapts to tools differently, but there's a huge range of video editing software on the market for you to try (without breaking the bank balance).
Here's some of the best:
The five rules of video editing
Video marketing can learn a lot from Hollywood, and there are five key rules of video editing that the top directors of the word have long lived by. You should, too.
1. The importance of 'B-roll'
This refers to footage that sets the scene. What's your video focusing on? Make the central topic crystal-clear within the first few frames.
2. Cut while in motion
When transitioning from one scene to the next, try and do so while the outgoing scene is in motion. In doing so, you'll distract the eye from edits and focus it instead on the content.
3. Don't jump
Jumping occurs when two consecutive shots feature the same camera angle but with a change in subject. Interviews suffer most commonly from this when specific dialogue needs to be trimmed. Instead, intersperse the two scenes with a different shot (for example, of the interviewer).
4. Focus on continuity, not linearity
The beauty of digital editing is that you can chop and change the order of the footage to your heart's desire. That means you don't have to edit in a linear fashion; if a piece of footage recorded before the scene it follows plays right - stick with it.
5. Don't go FX-mad
It may be tempting to fill your video with fancy transitions, text overlays and other effects, but keep them to a minimum - they'll only distract the viewer from the video content itself.
How to distribute your video
Just as there are numerous ways to shoot and edit your videos, you have a plethora of platforms on which to distribute them. However, it's likely you'll need to lean on one of the following:
The best thing about video editing in the digital age is that you can experiment to your heart's content. There's no wasted tape to worry about, so dive in and give it a try!