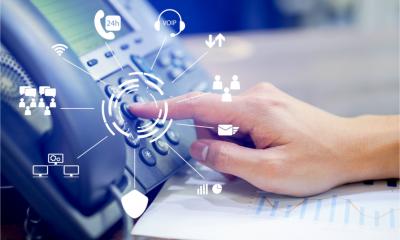 Finding and choosing a business telephone system supplier is not always straight forward. Without detailed knowledge of how business phone systems work, you'll have to do some research to identify a supplier who can provide the telephone functions your business needs
In this guide, we talk you through the steps you should follow to choose the right small business telephone system provider for you.
What do you want from your telephone system?
If you're considering investing in a new business telephone system, start by establishing what your requirements are from your communications platform.
Ask yourself these questions:
How do you want to manage calls, faxes, emails and data sent across your internet connection?
Do you want to implement a unified messaging system, or do you simply want a telephone system that integrates with your customer database?
Do you want to route your calls over your internet connection using voice over internet protocol (VoIP) to reduce costs?
These three questions are fundamental to the design of your new business phone system.
If you can explain exactly what you want to potential suppliers, they will be able to respond directly to your requirements, rather than simply quoting for what they think you want.
Finding potential telephone suppliers
The business telephone market is a competitive one, so finding the right supplier can be a challenge. One approach to identifying potential providers is to speak to your business contacts. Ask them who they use and whether they would recommend the company.
Your local chamber of commerce or trade association might also have a list of approved business telecoms suppliers it can recommend. Alternatively, you can search online directories and comparison sites for local business phone system businesses. They will provide a shortlist of suitable suppliers based on your requirements.
Watch for telephone supplier terminology
The telephone and telecommunications sector is full of jargon that can catch you out if you're not aware of what it all means. Many suppliers will speak in acronym-heavy sentences unless you challenge them.
Make sure the providers you talk to explain everything in terms that you understand. It will obviously help to have some knowledge of the terminology yourself, but you shouldn't have to learn a whole new language just to talk to your chosen small business phone service provider.
Who asks most questions?
When you talk to business telephone system suppliers, take note of which ones ask most questions about you and your specific requirements. They're probably the suppliers who will take most time to understand what you are after, rather than just trying to sell you a standard package.
Also, remember that the business phone supplier which tells you it can't be done, but then offers a workaround, probably understands exactly what you have asked for.
Last steps to choosing your telephone supplier
As business telephone systems are complex, make sure that what is being proposed will work before you commit to one supplier.
If you are opting for a hard-wired telephone system, ask to visit one of their existing clients before signing up. Ask the client if their system does everything they need it to. Find out how easy it is to use, and what the support they receive is like.